Urban jungles have a lot going for them, but one thing they're missing is space to garden in and grow your own vegetables.
Heroes of the eco-agriculture movement
Mekong Delta farmers increase area under clean vegetables, fruits for Tet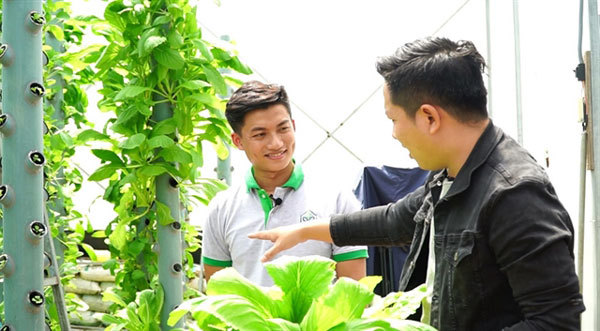 The founders of the start-up Green Farm have developed a vegetable growing machine that takes up less than a square metre of space and can automatically water and fertilise vegetables. — Photo nhanongxanh.vn
Luckily for HCM City residents, a group of young entrepreneurs is trying to change that.
The founders of the start-up Green Farm have developed a vegetable growing machine that takes up less than a square metre of space and can automatically water and fertilise vegetables.
According to Nguyen Manh Tung, 28, one of the founders, the idea for ERO-Farm machine came from a dream to help every Vietnamese household have clean vegetables in their meals.
Automatic model of vegetable growing
Aeroponic technology, or growing plants without soil, has been popular around the world for a while now, but it's just catching on in Vietnam.
Growing vegetables at home has become increasingly popular as Vietnamese consumers start to pay more attention to where their food comes from and how clean it is.
However, finding space for a garden is tough and not everyone has the time or money to care for plants.
That's where the District 2-based firm comes in, with a machine that can allow anyone to grow 20kg of fresh vegetables a month, no matter where they live.
According to Tung, the VND4 million machine can provide enough fresh vegetables for a four-member household in a month (15kg), and the VND5.2 million option can satisfy a six-member household (20kg).
The ERO-Farm machine consists of a 2m-high frame of tubes and each tube has a dozen holes. Each hole contains a baby plant, with the water and organic fertiliser provided automatically by a pumping machine.
"At first, we tried to apply this model at the nursery in the Central Highlands' Da Lat City, and it was quite successful," Tung said.
"Then the group has improved the structure of the machine a bit to suit households with small area in apartment buildings."
As one of the first ERO-Farm users, Nguyen Thi Vinh, who lives in an apartment building in Tan Phu District, HCM City, said "My family has been using this machine for a year. We place it right on the balcony."
"Compared to growing vegetables on the ground, this model does not occupy much area but gives high productivity," Vinh said.
"The cost for installing a machine at home is much cheaper than buying fresh vegetables at the supermarket."
Ambitious
Tùng, the technical director of Green Farm and a graduate of HCM City University of Technology, said he was working as a programmer with stable income of VND20 million per month, but a year ago, he decided to give up his job and move to growing clean vegetables.
"I like business, prefer to communicate with people. Then I had the opportunity to meet ambitious friends, we studied the automatic model of vegetable planting and became increasingly passionate about this," Tung said.
Pham Thanh An, 24, a graduate of HCM City's University of Transport, is one of 10 technicians of Green Farm.
At first, he had to hide the fact he was working for a start-up from his cautious parents, before he eventually confessed and showed them the group's ideas.
"We didn't have much money, my family even borrowed money from relatives to support us," An said. "To be honest, until now, I still have not paid my debts, but I am happy because I am supported by my family."
After more than a year, Green Farm has sold 100 ERO-Farm machines to households in HCM City and built large nurseries in Cu Chi District and Da Lat.
At the nursery in HCM City's District 2, Green Farm has more than 100 machines to provide 2 tonnes of fresh vegetables every month for the city's market.
With an average price of about VND40,000-60,000/kg for different kinds of vegetable, An said this income only helps maintain the group's activities.
"We have more than 100 varieties of vegetables here. Profit is not much, but it's okay, because our way ahead is still very long," he said.
Green Farm also offers tours of their facilities to tap into the growing eco-tourism market and Tung hopes it can some day become an incubator for other high-tech agricultural projects.
Chasing a dream
A year into the start-up journey Tung and his colleagues have experienced plenty of ups and downs and quickly spent all the initial capital they put in.
Last December, one of their nurseries was devastated by floodwater from a nearby river and one member of the team was hospitalised due to bee stings, but they never gave up.
The group looked for solutions and decided to save money from the daily sales of vegetables to pay land rent and electricity and water expenses.
Luckily, soon after some friends gave them interest-free loans to help Green Farm continue researching and chasing their dream.
"We have the same concern when every day we read news about dirty food and chemical-sprayed vegetables.
"It not only harms our own health but also pollutes the soil, water and surrounding environment," he said.
Perhaps the best indicator that Green Farm has been a success so far is the rising interest of young people, engineers and scientists in the project, something Tung said motivated them.
Tung said Green Farm was looking for start-up loans with preferential interest rates so the model could be spread. VNS
Kieu Van & Phan Giang