Deputy Minister of Transport Le Dinh Tho on Monday asked the Directorate for Roads of Viet Nam (DRVN) to lift the suspension on fee collection at four BOT (build – operate – transfer) projects.
Transport Ministry proposes fee hike for 37 BOT projects
Banks are worried as BOT projects incur losses
The Ministry of Transport's role in BOT toll collection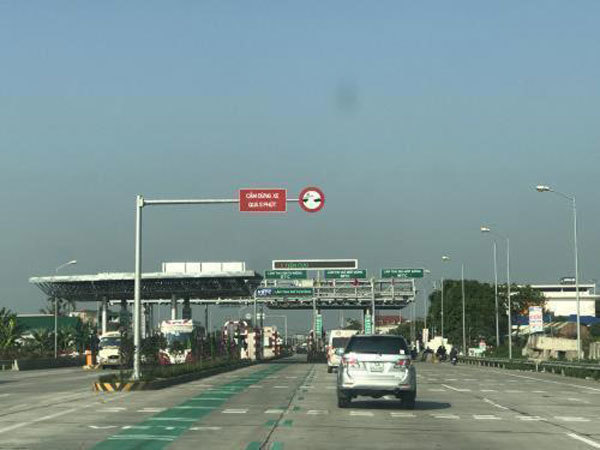 Phuoc Tuong - Phu Gia BOT toll booths were asked to halt fee collection by the DRVN. 
On July 5, the directorate announced a halt to fee collection at toll booths from 6pm on July 10 if investors fail to sign a contract appendix to deploy the electronic toll collection (ETC) system with the Ministry of Transport (MoT).
However, BOT owners have protested the order, citing the unreasonable ratio of revenues they are expected to give to VETC – the ETC service operator – as well as monitoring costs, expenditure and the requirement that they would need to hand over tollgates to VETC.
BOT tollgates of Can Tho – Phung Hiep on the National Highway No.1, Bac Hai Van in Thua Thien Hue Province, Cam Thinh in Khanh Hoa Province and Duc Long – Gia Lai in Gia Lai Province have shared the same fate.
Representatives of BOT projects said that they had signed the appendix for one or two years and were currently collecting fees through the system.
Meanwhile, the MoT has recently adjusted the ratio of revenue shared with VETC. BOT investors have been asked to sign an agreement on the change, not the whole appendix which DRVN used to plead the suspension.
Investors are required to share between 2 to 7 per cent of ETC lane revenue with VETC while they claimed they have not been able to pay interest on their bank loans.
Some investors said the installation of ETC increased the costs of the BOT project, which resulted in the need to extend fee collection by one to two years.
Companies expressed a wish to have royalty negotiations with VETC instead of having MoT request them to pay a certain percentage.
Duc Long – Gia Lai BOT project has installed the ETC systems on its four lanes since July 2017.
"However, it is unreasonable for the ministry to ask investors to sign a contract appendix which requires us to pay higher revenue shares. We agree with the deployment of ETC but still need the Government to clearly explain, not just simply halt fee collection on July 10 and create disadvantages for investors," said the project representative.
A representative of Cam Thinh BOT project said that they signed a contract to install a non-stop fee collecting system with VETC and a contract appendix with MoT in early 2018.
"However, last week, DRVN announced a suspension to toll collection. We didn't know there was an appendix we need to sign as we have signed a contract with VETC and the system is being operated. VETC has not argued with us about the share. We cannot accept the reason behind DRVN forcing us to stop collecting fees," he said.
"Management agencies can negotiate with investors before issuing a decision to suspend fee collection," added a representative of Phuoc Tuong – Phu Gia BOT.
Responding to these opinions. Tho asked DRVN to withdraw the announcement and asked MoT's Department of Public Private Partnership Management to calculate the percentage shared with VETC to ensure benefits of both the ETC service provider and BOT investors.
According to Tho, the total investment to install ETC systems at 44 BOT projects nationwide in the first phase is VND1.7 trillion (US$73.1 million) and will be distributed between all projects. Toll booths located near cities with high traffic flows will need to pay higher portions.
VNS