Dutch experts have proposed building dykes to control flooding in HCMC's districts 2 and 9 at a total estimated cost of US$1.2 billion, said HCMC Party Committee Secretary Nguyen Thien Nhan.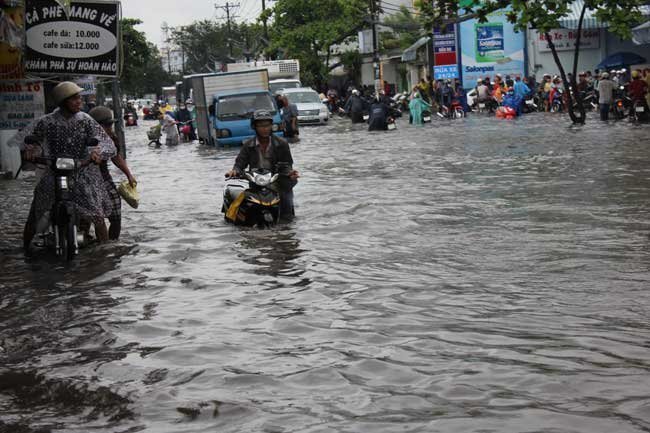 Road users wade through a heavily flooded street in HCMC. Dutch experts have proposed building dykes to control flooding in HCMC's districts 2 and 9 at a total estimated cost of US$1.2 billion
Nhan told the media on the sidelines of a National Assembly session on October 29 that the Dutch experts had proposed the construction of dykes in the two districts under the public-private partnership (PPP) format.
Building river dykes is an effective solution to alleviate floods at flood-prone sites in the city, Nhan explained, citing the experts at a recent meeting between Nhan and Dutch Ambassador to Vietnam Elsbeth Akkerman to discuss cooperation over sustainable flood prevention for HCMC.
The solution involves building multifunctional dykes at certain sections of rivers at high risk of floods. The outer protection layer of these dykes will prevent water, while land along the dykes will be used for building parking lots, hotels, entertainment areas and other services.
The combination of flood control and service offerings is expected to attract investors, Nhan said, adding that the project to build dykes will not have to tap the city's budget but will allow firms to pay to acquire space for their business operations.
In response to the solution, Le Thanh Cong, director of D&C Construction Consultant Co., told Thanh Nien newspaper that the antiflooding plans for districts 2, 9 and Thu Duc should be considered carefully based on the neighboring areas' general plans due to shared water flows and drainage systems.
Echoing this view, Le Xuan Thuyen from the University of Sciences HCMC under Vietnam National University, remarked that it is necessary to map out a detailed plan for the construction of dyke routes and to determine the lifecycle of the dykes.
The establishment of entertainment facilities or parking lots should also be weighed carefully to avoid affecting long-term urban development, he stressed.
If the city intends to build dykes to control floods, the authorities should prioritize technical issues and risk prevention measures to respond to natural disasters that cause a dyke breach, Thuyen added. SGT
 

Phu Quoc authorities are considering radical solutions to fight against floods after the island incurred the biggest flood in its history last August.

The flood season in the Cửu Long (Mekong) River Delta is a natural phenomenon that occurs each year on the downstream Mekong River.

High tides, dykes and land subsidence are causing serious flooding in urban areas in the Cuu Long (Mekong) Delta region, according to Nguyen Huu Thien, an expert on the Delta's ecosystem.