Once electronic courts are used, all steps of hearing can be transparent. Every judge and chief judge will have a virtual assistant to support their work, while people's confidence in justice will increase.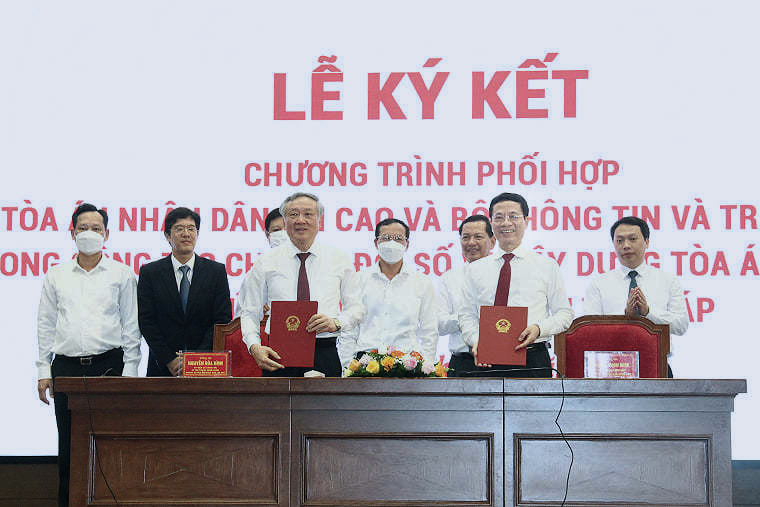 The Ministry of Information and Communications  and the Supreme People's Court signed a cooperation programme on digital transformation
Nguyen Van Du, Deputy Chief Judge of the Supreme People's Court, said that building an electronic court is an inevitable trend in modern times that satisfies the requirements of international integration and catches up with the world's civilized justice system.
Du said many countries in the world, including South Korea, China, India, Singapore and Australia, have completed the period of building electronic courts, while they are building digital courts before setting up smart courts. Meanwhile, Vietnam strives to complete the building of electronic court by 2025 in order to adapt to the 4.0 industry revolution.
The application of IT in court operations is still at a very early stage, but this has helped change the face of the sector. This includes online teleconferencing system which covers over 800 points; the publication of court judgments and case law on the Supreme People's Court's information portal; and software on managing applications for sentence review and online public services register.
However, IT application in the sector is facing some difficulties because of the limited facilities and IT infrastructure and the weak workforce in charge of IT at local people's courts.
Minister of Information and Communications Nguyen Manh Hung said users, rather than technology creators, determine the development of technologies. Therefore, if courts pioneer in using new technologies and new digital platforms, they will be smarter. Technologies will be perfected at courts instead of the countries of the original technologies.
According to Hung, Vietnam's digital transformation is special as many things in the first and second phases still have not been completed. However, he stressed that it is not necessary to implement these things sequentially, one after another, but under the '3-in-1' mode. Thanks to this, latest digital technologies can be applied which help carry out digital transformation more quickly and cheaply.
"Not many things have been done by courts in the first and second phases, and therefore, they have opportunities to utilize the most modern digital platforms to accelerate digital transformation," Hung said.
He suggested that digital transformation at courts could begin with publicizing judgments and case precedents so that people can access them online. A virtual assistant that can answer questions about legal issues is the next step.
"A virtual consultant can tell people about the probability rate of winning cases. This would be digital transformation at a high level," Hung said.
Chief Justice of the Supreme People's Court Nguyen Hoa Binh thinks that in building electronic court, there are four most important factors - political determination, technology infrastructure, legal infrastructure and human resources. 
Duy Vu

The Permanent Court of Arbitration (PCA)'s ruling has been an irrevocable part of history. It will act as a "guide" for countries involved in the struggle for an order based on rules and not on "force creating justice."  

While Ho Chi Minh City and a number of southern provinces are facing widespread issues with COVID-19, digital transformation efforts are being taken more seriously.