Some 1,000 people have been duped into depositing their money in fake property projects, which are being widely advertised in districts 9, Binh Tan and Hoc Mon, said a council member in HCMC.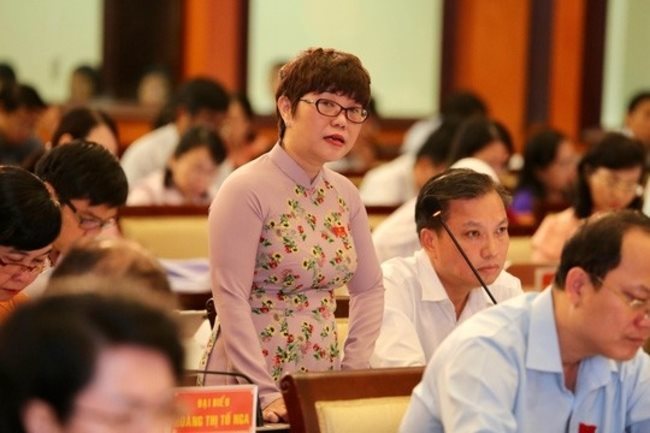 Deputy Nguyen Thi To Tram speaks at a meeting of the HCMC People's Council on July 12 – PHOTO: NLDO
Deputy Nguyen Thi To Tram of Binh Tan District said at a meeting of the HCMC People's Council on July 12 that some real estate developers have allegedly set up their projects on already-zoned land. They have even built roads and divided land into smaller lots for sale, according to Tram.
"Residents have lodged complaints to many places but the firms that are defrauding (their clients) through these scam projects have yet to face justice," she said.
She said that a plot of land in An Lac Ward of Binh Tan District had been zoned for a park, but Angel Lina Investment Consultant Corporation was found to have made a false claim involving a residential project there. A client of the company has even put down a deposit worth more than VND1 billion (US$43,000).
She urged authorities to take legal actain against individuals who offer fake property projects. Also, the city government should publish the master land zoning plans so that locals can be aware of them and not get tricked.
Le Van Thinh, chairman of Binh Tan District, responded that there are 10 scam property projects in the district. Some people have put down deposits, given the actual housing demand, while others are purchasing property for profit.
The district authority has reported the scams to the municipal government and has demanded the city police investigate the companies that publicly advertise fake projects to defraud buyers, he said.
Deputy Tram also pointed out the complicated situation of loan sharks since gang members pretend they are official employees of certain companies to collect debts on behalf of those companies.
She added that those individuals who offer loans at usurious interest rates are subject to administrative fines, but only a few have been treated as criminal offenders.
The number of loan shark cases dropped by 60% in the first half of this year, according to Le Dong Phong, director of the HCMC Police Department.
The city police, he added, are sticking to a specialized plan involving crackdowns on loan shark rings, assigning responsibilities to the relevant agencies and offering detailed guidance on sanctions. As a result, some criminal cases have been brought to justice, and the situation has become less complicated than in the previous year.
In order to clamp down on loan sharks, he suggested keeping a close watch on debt collection companies in tandem with prevailing regulations.
At the same time, the Government should have policies that make it easy for banks to lend to low-income people as they can help control loan sharks effectively. SGT
Le Anh

The Supreme People's Procuracy has arrested and commenced criminal proceedings against eight heads of the Thang Long multi-level marketing company for alleged fraudulent appropriation of assets.

Despite having been present in Vietnam for a few years, the US pay-TV Netflix has come under fire for dodging taxes and not supervising content. It is also questioned about its role in an online scam.