Ha Giang Police have completed their investigations and proposed the provincial People's Court begin legal proceedings against five suspects related to a national high school exam cheating scandal.
Ha Giang province's exam cheating scandal revealed
Ha Giang: One more arrested for involvement in exam cheating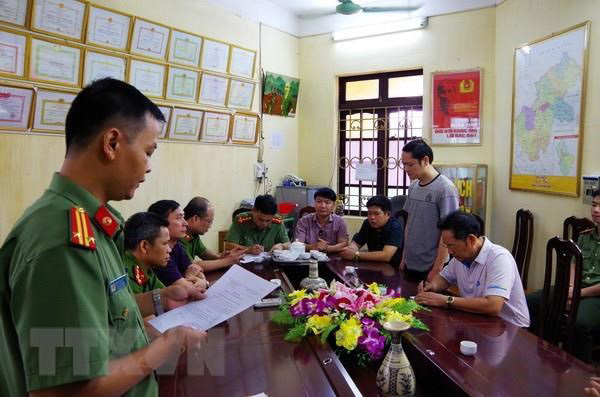 The Ha Giang Investigation Police declared an order for detention for Vu Trong Luong (standing) on July 20, 2018. — VNA/VNS Dieu Loan
The information was released on Monday by Colonel Le Van Canh, spokesman of the Ha Giang Police.
The five suspects will be prosecuted for abusing their position and power while on duty.
They are Vu Trong Luong, deputy head of the Examination and Quality Management Division under Ha Giang Province Department of Education and Training (DOET); Nguyen Thanh Hoai, head of the division; Trieu Thi Chinh, deputy director of the Ha Giang DOET; Pham Van Khuong, deputy director of the Ha Giang DOET; and Le Thi Dung, an official of the Internal Political Guard under the Ha Giang Police.
The five allegedly colluded to use software to raise marks for 107 candidates.
According to the investigation, Hoai acted as instigator of the crime.
Chinh, who was head of the jury, gave Hoai a list of 13 candidates and asked Hoai to raise the marks of the literature tests for them.
Dung did not have any responsibility in the exam, but asked Hoai to raise marks for 20 candidates, who were her acquaintances.
Khuong did not join the jury, but asked Hoai to raise marks for his son.
Luong used a computer to raise marks of 309 tests for 107 candidates.
No restrictions on handling of exam fraud: Deputy PM
All individuals and organizations involved in last year's university admissions scandal must be held liable, said Deputy Prime Minister Truong Hoa Binh, adding there are no restrictions on the handling of the scam.
Addressing a question-and-answer session at the National Assembly's seventh sitting today, June 4, Binh said that after having been informed that many students in three northern upland provinces, Son La, Ha Giang and Hoa Binh, had their high school exam scores illegally revised up to qualify for university admissions, the prime minister immediately ordered the Ministry of Public Security to launch an investigation into the case and impose heavy sanctions on violators, the local media reporetd.
At a recent Cabinet meeting, the prime minister told the Ministry of Education and Training to ensure the transparency and success of this year's high school exam.
Both parents and educators involved should be held responsible as parents wanted their children to be qualified for top-notch universities, so they sought to get help from teachers and educators in charge of organizing the exam and marking test papers, Binh added.
As for the investigations, Minister of Public Security To Lam said 16 teachers and education officials have been prosecuted and detained. They were charged with abusing their power to correct students' test papers and revise up their scores to the desired levels.
Investigators also found that 214 students were helped to have higher scores, including 66 in Hoa Binh, 107 in Ha Giang and 44 in Son La.
The ministry will continue the probe of the case to see whether parents had given bribes, Minister Lam added.
The local police have been in charge of the investigations. As for the case in Hoa Binh, the province proposed the ministry conduct an investigation.
NA deputy Nguyen Anh Tri from Hanoi City asked the minister to thrash out measures to ensure the transparency of high school exams.
Minister Lam said the Ministry of Education and Training should be responsible for the job. However, the Ministry of Public Security will closely coordinate with the Ministry of Education and Training to prevent such fraud.
VNS/SGT