A lower court in Ha Giang is hearing a case involving four former senior education officials for their alleged involvement in the 2018 high-school test score rigging scam after a month of adjournment, as many witnesses failed to show up last month.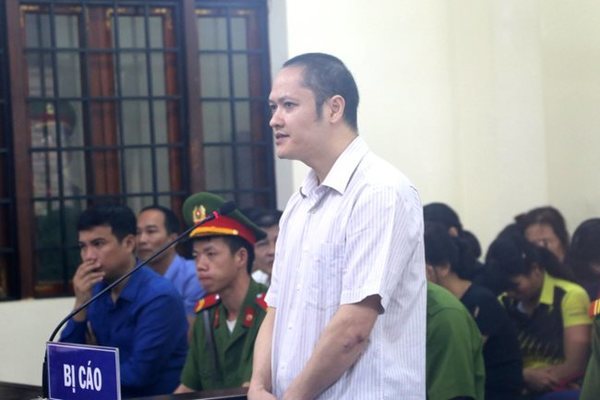 Vu Trong Luong, former deputy head of the Testing and Quality Assurance Division, under the Ha Giang Province's Department of Education and Training, is seen in the courtroom on October 14 – PHOTO: VTV

Nguyen Thanh Hoai, 50, and Vu Trong Luong, 41, former head and deputy head, respectively, of the Testing and Quality Assurance Division, under the provincial Department of Education and Training, were charged with abusing their power while on duty, based on the 2015 Penal Code.
According to the indictment, there are strong grounds for concluding that the duo had reached an agreement to alter the scores of multiple-choice papers for several students in violation of examination rules.
Luong was found to have directly corrected 309 papers for 107 local candidates. For one candidate, the scores on their Math, English, Chemistry and Physics papers were inflated by a combined 29.95 points, while another received only a 2.2-point hike on a math paper.
Speaking at the trial today, Luong said that Hoai was the mastermind behind the scam, adding that he had voluntarily followed his then-superior's request to alter scores without demanding any money or other material benefits, according to local media reports.
Luong stated that he was summoned to his boss' office in May 2018 to discuss raising the scores of a number of candidates. Recognizing that the Ministry of Education and Training's testing software used only Excel files, Luong readily accepted the suggestion.
A month later, Hoai allegedly sent his subordinate a number of text messages and emails, together with a list of 93 candidates whose scores needed to be manipulated.
Aside from the list, Luong said his friends and acquaintances had also asked him to raise the scores for 14 other candidates.
"They asked [me] to raise the scores for their children and niblings without any discussion of material benefits, as well as without promises to support [me] in my work," he told the court.
Other accused individuals include two former deputy directors of the province's education and training department, Trieu Thi Chinh, 51, and Pham Van Khuong, 60, as well as Le Thi Dung, 50, former officer of the provincial Police Department.
Chinh was held on the charge of abusing her power to influence other people for her own gain, while Khuong and Dung were charged with the abuse of influence over office holders for personal gain.
Khuong was found to have asked Hoai to raise the scores of his son's papers by 13.3 points. Dung also persuaded Hoai to alter the scores of 20 other candidates. As a result, all of the students had their scores raised.
Chinh also provided Hoai with a list of 13 candidates and asked him to raise the literature paper scores for 12 students and inform her of the scores of one student. They agreed to alter specific scores for each student, but Hoai failed to do so, without explanation.
The first-instance trial was expected to last for three days. A total of 117 witnesses and individuals with related rights and obligations were summoned to attend, but only 55 people were in attendance today. SGT
 

Ha Giang Provincial Party Committee's Inspection Commission announced on Tuesday the results of examinations into 151 people, including Party members, involved in serious wrongdoings in the 2018 National High School Exam cheating scandal

The Ministry of Public Security (MoPS) on Saturday arrested a former official of Hoa Binh Province Police for taking advantage of his position and rights while on duty.