The Ministry of Health plans to provide free biochemical tests and X-rays once every year, Minister of Health Nguyen Thi Kim Tien said on Tuesday.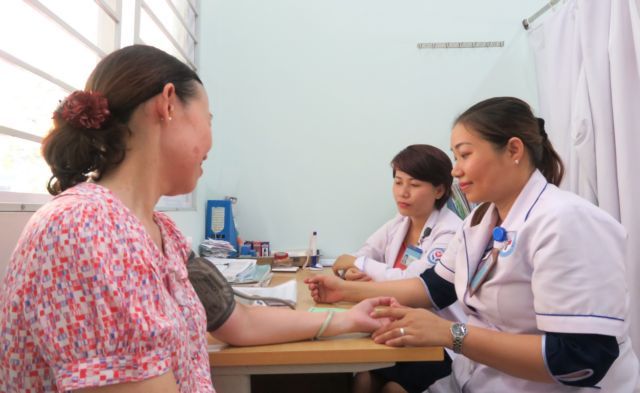 A patient is examined by a doctor at the Tân Quý Ward health station in HCM City's Tan Phu District.
The health station is one of the three in the city chosen as a family medicine practice model under the ministry's requirement.
The country has 26 such health stations, Tiến said, adding that the ministry will expand this kind of health station to several other provinces under official development assistance (ODA) capital.
At the health stations with ODA, residents will be provided free biochemical tests and X-rays once a year.
Provinces and cities that do not have health stations under ODA should find ways to offer local residents free biochemical tests and X-ray for screening diseases, the ministry said.
Tiến said that 90 per cent of people in the country need primary health care services which should be provided at health stations and general health clinics.
Because many health stations in the country fail to meet the need, people often go to hospitals to get these services.
Health stations should also provide preventive healthcare services, Tiến said.
Tiến instructed relevant agencies to conduct assessments and set up detailed criteria for human resources, infrastructure, communication, IT and finance for the health stations' operations.
In HCM City, the Department of Health has demanded that each district choose one health station in their locality to use as a family medicine practice model.
Twelve such health stations have been set up so far. They have upgraded their facilities and invested in more medical equipment.
The department has instructed doctors at district-level hospitals to rotate shifts at these health stations.
Thanks to the investment, the Tân Quý Ward health station has attracted local residents. More than 70 patients now visit the station every day, double the number in the period before it began the family
practice model.
The station will expand screening and monitoring of non-communicable diseases in the upcoming time. It will also strengthen communication to local residents about preventive methods against diseases. —
VNS