HCM City's roads are constantly threatened by overloaded and oversized container and dump trucks.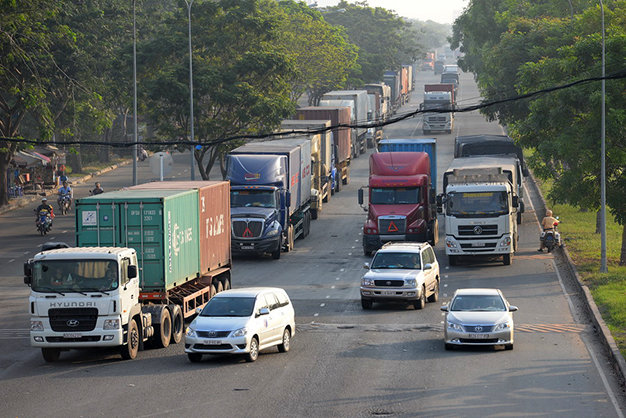 Container trucks on National Highway No 1A.
On January 13 this year, for instance, a giant roll of steel fell on the road from a trailer truck on National Highway No 1A climbing Bình Điền Bridge (in Chánh District), terrifying several people travelling behind it.
According to the city traffic police, on 13 January 201, in just one hour police caught over 10 trucks violating traffic rules within a short stretch of National Highway No 1A from District 9 to Thủ Đức. Most were overloaded by 22.3-150 per cent.
But many traffic offences are not spotted or penalised because there are not enough traffic police officers or other agencies to supervise traffic 24 hours a day, a spokesman for the transport department's inspection division said.  
Besides being the main reason for many fatal traffic accidents, oversized and overloaded trucks also damage roads in many suburban districts.
Regulations stipulate fines for overloaded trucks of VNĐ800,000 (US$34.3) to VNĐ12 million, depending on the nature of the offence. Owners are also fined in addition to the drivers.
Therefore, both drivers and owners seek to avoid locations where traffic police and other authorities are likely to be present, Lieutenant Colonel Triệu Quốc Dũng of the city traffic police said.
According to Lê Hồng Việt, deputy chief inspector at the Department of Transport, efforts to keep oversized, overloaded trucks of roads have not been successful because of a shortage of personnel.
Việt said in the past the traffic police, traffic inspectors and youth volunteers would monitor weighbridges to crack down on oversized and overloaded trucks, but the youth volunteers pulled out in early 2017 and the police later that year.
Without the presence of the police, traffic inspectors find it difficult to stop overloading of trucks because they are not allowed to stop vehicles on roads, he added. — VNS.