Ha Giang Provincial Party Committee's Inspection Commission announced on Tuesday the results of examinations into 151 people, including Party members, involved in serious wrongdoings in the 2018 National High School Exam cheating scandal
 that has earned public outrage.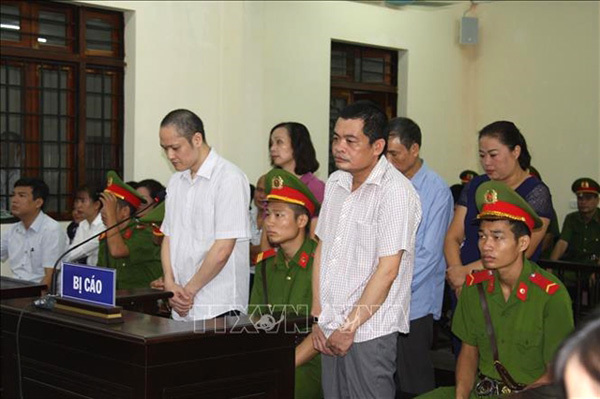 A court charges suspects involving in the 2018 National High School Exam in September 18 in the northern mountainous province of Ha Giang.—VNA/VNS Photo Quyet Chien
Of those investigated, Tran Duc Quy, vice chairman of the provincial People's Committee and head of the steering committee for the national high school examination, and Vu Van Su, former director of the provincial Department of Education and Training and chairman of the National High School Examination Council in 2018 in Ha Giang Province, previously received warnings in June.
Hoang Thi Trinh, a staff of the provincial Police Department, also received a warning.
Three people were expelled from the Party, namely Lê Thị Dung, former deputy head of the Political Security Office under the province's Police Department; Nguyen Thanh Hoai and Vu Trong Luong, former head and deputy head of the Testing and Educational Quality Assurance Office under the province's Education and Training Department.
A total 42 people were reprimanded, including Mai Quang Hung, deputy head of the province's Social Insurance Agency; Vang Mi Cho, deputy chairman of the People's Council of Dong Van District; and La Thi Thuy Chinh, head of Personal Organisation Office under the the province's Education and Training Department.
Twenty-nine people were ordered to learn from their wrongdoings.
The provincial commission will report to the Party Central Committee's Inspection Commission for considering punishment for 12 people outside the management of the provincial commission.
Investigations into the other individuals are ongoing.
According to investigations, 309 test sheets of 107 students in Ha Giang were found to have inflated scores. The examination was taken by 5,400 Ha Giang students. In the top 11 students nationwide with highest scores, the province contributed three.

The Party Committee of northern Ha Giang province has taken disciplinary measures against some senior leaders for committing violations related to the exam cheating scandal in the province last year.  
VNS