The Party Committee of northern Ha Giang province has taken disciplinary measures against some senior leaders for committing violations related to the exam cheating scandal in the province last year.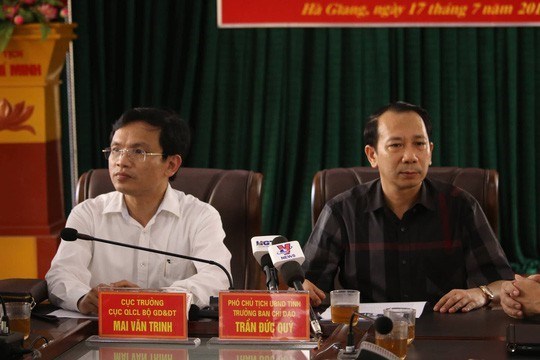 Tran Duc Quy (right), Vice Chairman of the People's Committee of Ha Giang, at a press conference after the exam cheating scandal in 2018. (Photo: nld.com.vn)
The provincial Party Committee announced disciplinary action by issuing warnings against Tran Duc Quy, Vice Chairman of the provincial People's Committee and head of the steering committee for the national high school examination; and Vu Van Su, former director of the provincial Department of Education and Training and Chairman of the National High School Examination Council in 2018 in Ha Giang province.
Earlier, the provincial Party Committee held a meeting to review and decide the disciplinary measures for the two officials for wrongdoings and violations in organising the national high school examination in the province last year.
According to the initial investigations, 309 test sheets of 107 students in Ha Giang were found to have inflated scores.
The police ended the investigation and transferred the file to the provincial People's Procuracy, requesting the prosecution of five defendants for abusing their position and power while on duty.-VNA

Ha Giang Police have completed their investigations and proposed the provincial People's Court begin legal proceedings against five suspects related to a national high school exam cheating scandal.

Some defendants in the exam cheating scandal said that VND1 billion was paid for each 'exam score fabrication'.

The list of provincial leaders who have children or relatives whose exam results were fabricated in the 2018 high school finals has been published in some newspapers.