Nguyen Thi Mai, a tenth-grade student at Nam Sach high school in Hai Duong province, has won the top prize in a national letter-writing contest, which is set to be launched globally by the Universal Postal Union (UPU).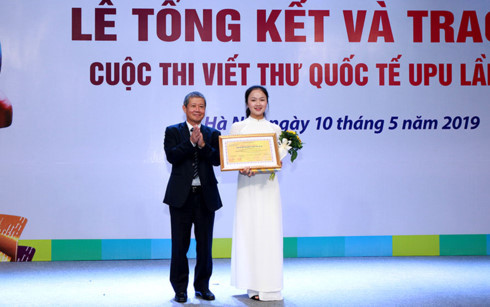 Nguyen Thi Mai is the winner of national UPU contest
The awards ceremony was co-organised by the Ministry of Information and Communications, the Ministry of Education and Training, the Ho Chi Minh Communist Youth Union, the Young Pioneer Newspaper, along with Vietnam Post Corporation and took place on May 10.
The 48th national contest was themed "Write a letter about your hero" and attracted the participation of students from 2,456 schools from across the country with more than 1 million students entering.
The judges awarded one first-place prize, three second-place prizes, five third-place prizes, and 30 consolation prizes to the best entrants. Sixty-one sub-prizes were also awarded to encourage some of the nation's promising letter writers, whilst six additional prizes were granted to the youngest participant and those with disabilities.

Mai's letter will be translated into French and sent to the UPU, based in Switzerland, as part of the international competition.
VOV