Hanoi and HCM City are piloting programmes to reduce smoking.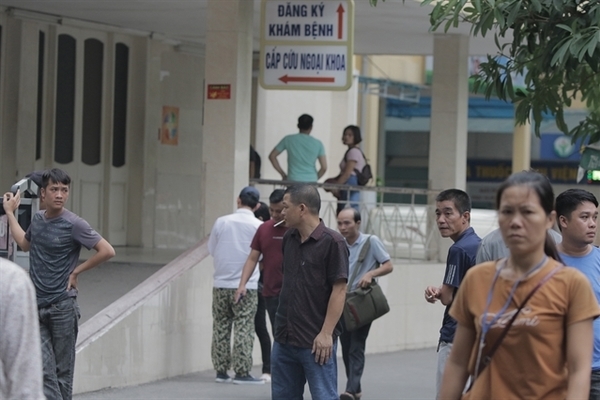 People smoking at a hospital in Hà Nội. Hà Nội and HCM City plan to pilot smoke-free areas in hospitals, hotels, restaurants and bus stations.

The cities are trying to encourage people not to smoke in hospitals, hotels, restaurants and bus stations in order to reduce the harmful effects of passive smoking.
Phan Thu Hương, deputy head of Respiratory Centre under Bạch Mai Hospital, said at a workshop held yesterday the hospital had not only printed posters and leaflets but also improved the capacity for doctors and medical staff so that they could consult smokers about harmful effects of tobacco and give them smoking cessation methods.
The meeting was held in Hà Nội by the Ministry of Information and Communication, aiming to provide data for local media about projects implementing smoke-free environments in Hà Nội and HCM City.
Hương also said the hospital conducted a survey among 300 smokers. Results showed 81.8 per cent of smokers intended to quit smoking, 89.3 per cent of smokers wanted to be advised to quit smoking and 64.7 per cent of smokers want to get free advice via phone calls.
The hospitals had directly consulted about 15,400 patients who smoked since 2017 and consulted via hotline (18006606) for more than 33,400 smokers since 2015, she added.     
Trẩn Thị Thanh Nhàn, head of Health Office of Hoàn Kiếm District, said the district administration launched the project of smoke-free restaurants and hotels in 2017.
There were 109 of the total 254 local restaurants and hotels installed smoke-free signs so far, she said.
The district had already piloted a smoke-free tourism model in 30 destinations, including famous landmarks such as Ngọc Sơn Temple, Bà Kiệu Temple, Việt Nam National Museum of History, Việt Nam Museum of Revolution, Quán Sứ Pagoda, Bà Đá Pagoda, Hà Nội Opera House, St Joseph's Cathedral and National Library of Việt Nam.
She said the model had already installed no-smoking signs at many locations.
Anyone caught smoking in prohibited areas will be fined between VNĐ100,000 – 300,000 (US$4.3-13). Restaurants not displaying signs will be fined between VNĐ 3-5 million ($129-216).
Hồ Quý Vinh, head of Sài Gòn Bus Station said the station had run a project to reduce passive smoking at public transport locations between November 2018 and October 2020.
The project aims to halve the rate of passive smoking in public transport locations in the city by 2020, he said.
Vinh said the city had installed smoke-free signs in six bus stations and 500 bus stops in the city.
Inspection teams were set up to warn and fine anyone violating regulations, he said.
Võ Thanh Lâm, head of the ministry's Legal Department said according to the World Health Organisation, cigarette smoke not only affected smokers but also polluted the environment and caused non-smokers to suffer similar diseases.
One of the effective solutions to reduce the harmful effects to non-smokers was to set up a smoke-free model in hospitals, hotels and restaurants.
Lâm said in the modern life, meeting at restaurants and hotels became more popular. So, building a smoke-free environment was necessary to protect the right to live in a clean environment of non-smokers. VNS

As one of the top tourist attractions in northern Vietnam, Ha Long city is working to improve its service quality and protect the environment.

Hanoi has begun to launch a pilot smoke-free model at 30 historical relic sites and culturally significant tourist locations throughout the city.