Hanoi plans to ban motorbikes sooner than planned by 2030 as part of its efforts to ease traffic congestion and environment pollution, Chairman of the municipal People's Committee Nguyen Duc Chung said.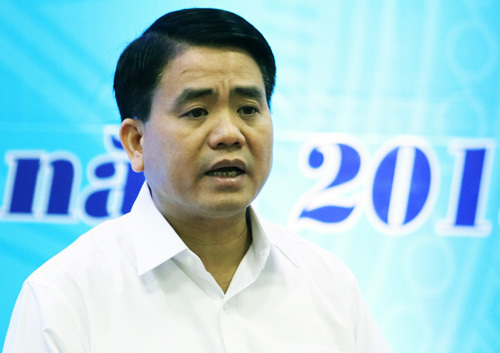 Chairman of the Hanoi People's Committee Nguyen Duc Chung at the dialogue. 
Chairman Chung stressed that the city's authority is determined to speed up the roadmap to ban motorbikes if public transport meets commuters' demand.
A number of Chinese cities currently ban motorcycles and switch to electric cars and bicycles while many European cities will not use gasoline-fuelled cars by 2022. In those countries, the distance between metro stations and bus terminals is usually 500-1,000m, so people mostly walk, Chung cited.
Chung said people should walk in a radius of 1 to 2 km or switch to cycling, which is environmentally friendly. In the coming time, the city will put into use shuttle bus of 16 to 24-seats connecting industrial parks and densely-populated areas, considering it one of the solutions to curb private vehicles.

Speaking to local media on April 9, Chairman Chung said that there are approximately six million motorbikes in Hanoi. Thus, banning or zoning two-wheelers should be examined and evaluated carefully. On that basis, all related plans must be made public and reach consensus before being implemented, he added.
The official noted that the Hanoi Department of Transport was working on the project of zoning areas where motorcycles are not allowed to circulate in accordance with the infrastructure and capacity of public transport, with a view to banning motorcycles in downtown districts by 2030.
Infrastructure and the capacity of public transport are the criteria for considering whether to ban motorcycles on a road, Chung said, adding that choosing means of transport is the right of each person, but it must be consistent with the common interests of the society. Hanoitimes
Anh Kiet