More than 100 trees that cause a stink in Hanoi during autumn are being cut down, a local has said official.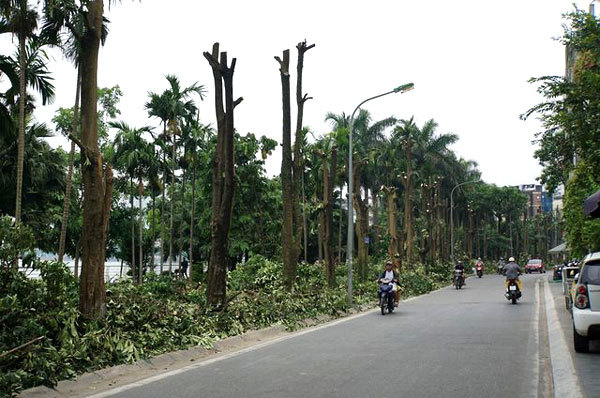 Many alstonia scholaris trees on Hanoi's Trich Sai Street were cut off to transfer to Soc Son District's Nam Son landfill. — Photo dantri.com.vn
The devil's trees are being removed from Trich Sai Street, Tay Ho District to be replanted in Nam Son landfill in Soc Son District, according to Pham Xuan Duc, an official of Buoi Ward.
Earlier, online newspaper Dan Tri reported several of the trees, known scientifically as alstonia scholaris, were chopped down on Thursday afternoon.
"The city has approved a plan to chop down and replant about 106 alstonia scholaris trees in Nam Son landfill area to create a buffer zone, minimising the smell of waste and solving the complaints of local residents about the tree's strong smell," Duc said.
The flowers of the trees gave off such a strong smell when in bloom that local residents couldn't stand the unpleasant odour.
The city will replace them with other trees of a similar diameter, according to Duc.
Four years ago, Quy Nhon City, Binh Dinh Province, chopped down over 300 devil's trees as local residents complained about the strong smell.
VNS