Hanoi is planning to build a real-time digital traffic map system similar to Google Maps within the year, according to the city's transport department.
Hanoi to set up intelligent transport system
IT application will ease Ha Noi traffic by 2020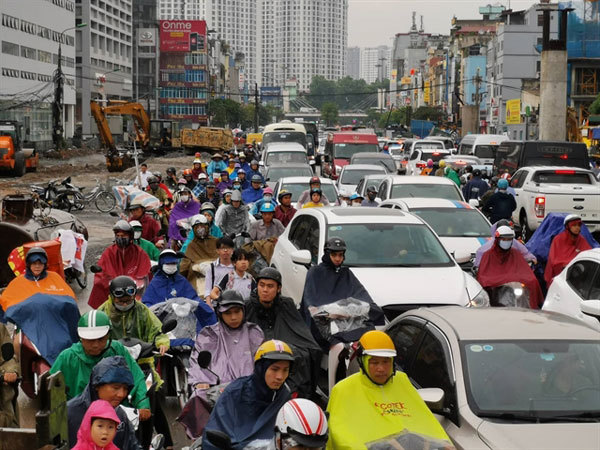 Traffic congestion on Truong Chinh Street in Hanoi after a heavy downpour on July 30. — VNA/VNS Photo Thanh Dat
Given the frequent congestions in the capital city, the use of information technology to build a digital traffic map will help drivers identify the optimal route to get to their destination, Vu Van Vien, director of Hanoi's transport department, said in a document detailing the department's plan that was submitted to the Ha Noi People's Committee.
The department has proposed including all information about traffic infrastructure and vehicles, including the locations of gas stations, medical stations and tourist attractions.
The map will illustrate the route to the nearest site where the driver wants to reach, and will take into account street traffic and issue warnings about possible traffic jams.
The locations and photos of parking spaces, coach stations and drop-off and pick-up points for coach buses, complete with pricing, will also be available on the digital map.
The system, which is expected to cost VND2 billion (US$86,500), uses data from traffic cameras across the city.
The servers for the system will be installed at the Ha Noi Transport Management and Operation Centre (TRAMOC) on No. 1 Kim Ma Street in Ba Dinh District.
Although drivers use a variety of digital maps, including Google Maps and home-grown apps and sites such as Vietbando, Imap and Vietmap, there is still no standardised digital map system meant to be used at the State management level.
VNS