Ha Noi's People's Committee has asked authorised agencies and local authorities at the grass-roots levels to tighten inspection and demolish the areas being illegally used to store construction materials in the city.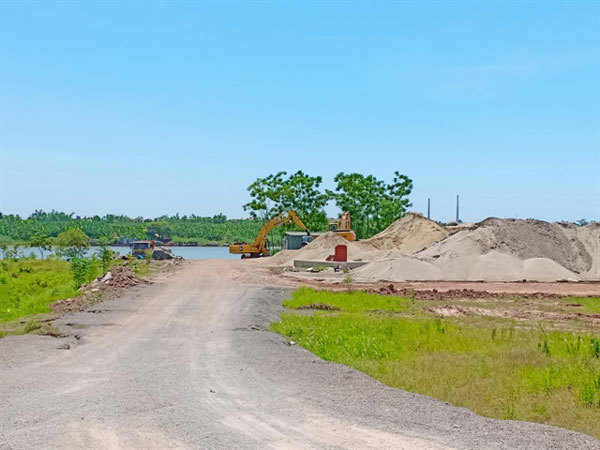 An illegal storage site of sand in Hanoi's Thuong Tin District. Photo phapluatplus.vn
The work must be done before July 31.
The municipal committee estimated that 188 storage sites of construction materials were operating in the city. Of those, only 40 were licensed.
The illegal storage sites of construction materials were reportedly along the two sides of the Hong (Red) River in Ba Vi, Son Tay, Phuc Tho, Dan Phuong, Bac Tu Liem, Hoang Mai, Thuong Tin, Phu Xuyen, Dong Anh and Gia Lam districts.
Illegal areas storing sand and gravel were found along Day River near the districts of Hoai Duc, Thanh Oai and Ung Hoa. All sand and gravel were illegally mined.
The city has sent inspection teams to handle the violations, but the encroachment has not been solved, threatening the safety of dykes as well as people passing through the areas.
Representatives from local authorities said illegal storage sites of construction materials are a decades-long issue.
Apart from some sites that were undergoing procedures to get licensed, most were operating illegally.
Local authorities had patrolled and demolished illegal sites, but they reappeared after a short time.
To deal with the issue, the city's committee has asked relevant authorities to supervise the construction investment projects using sand and gravel in the city.
Investors must have papers showing the origin of construction materials supplied by the contractors to ensure the materials were legally mined.
It has asked all sectors and units to tightly co-operate to better manage and handle violations, especially along the border between Hanoi and neighbouring areas.
Leaders of local authorities must take responsibility for any violations.
VNS