The Directorate of Market Surveillance under the Ministry of Industry and Trade has instructed Hanoi market watch to put a stop to rising prices of bottled water.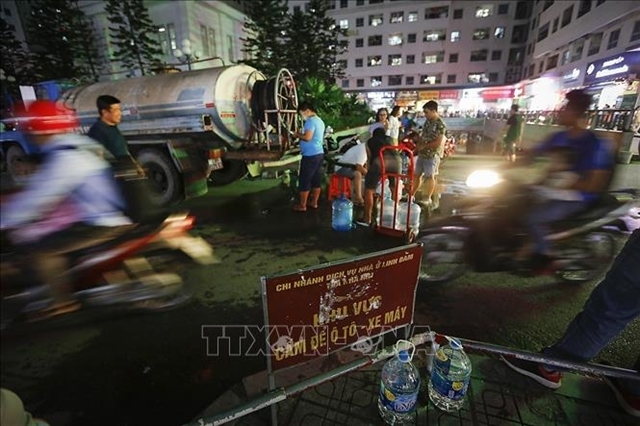 Residents from Linh Đàm urban area wait in line toget fresh water for drinking and cooking from a tanker.
While remaining the same price in major supermarkets, bottled water has been sold for double to triple the usual amount in some shops as stocks run out.
Earlier on Tuesday, city authorities issued a warning that tap water in several residential areas, supplied by Viwasupco Water Plant and sourced from the Đà River, was no longer safe for drinking and cooking, prompting a mass purchase of bottled water by residents in affected areas.
Residents said they had to buy even small bottles in bulk now as large ones never seemed to be in stock. Some shops had to warn their customers that it may take days for them to deliver as supply was running low due to a massive increase in demand. 
The directorate ordered the city's market watch forces to heavily punish individuals and businesses that take advantage of the situation to extort consumers.
An estimate of more than 250,000 households, in the districts of Thanh Xuân, Hoàng Mai, Cầu Giấy and Hà Đông, were affected.
Following the districts' residents' complaint about unpleasant smell from their tap water last Thursday, Hà Nội's health department took water samples for testing, which showed the levels of styrene in the water were higher than normal.
The reason for the smell was caused by a significant amount of used oil illegally dumped into an upstream section of the Đà River in Phú Minh Commune, Kỳ Sơn District in Hòa Bình Province. It spread to the stream and Đầm Bài Lake, which supply water for Viwasupco. — VNS

Hanoi will give daily reports on tap water quality following the oil contamination at the Da River Water Plant.

Hoa Binh province's police have conducted an on-site examination and verified and traced the truck driver who discharged used oil illegally.