The People's Committee of Hanoi City is mapping out measures to develop public transport, including a plan to put electric buses into service during the 2021-2025 period.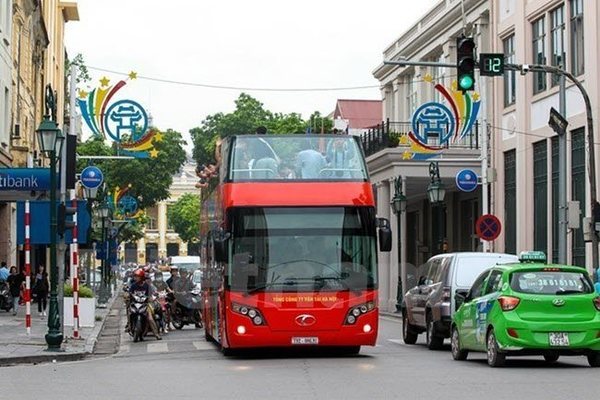 A double-decker bus is seen on a street in Hanoi. The city has a plan to put electric buses into service during the 2021-2025 period

In particular, the Hanoi Department of Transport was asked to develop the bus network, concurrently study expanding bus operations, encourage the use of public transport among the locals and attempt to launch electric buses in the coming period, reported news site VietnamPlus.
The city will also reorganize traffic activities, giving priority to buses traveling through key traffic points or streets that ban cars.
Also, large modes of public transport such as bus-rapid-transit units and the urban railway system will be prioritized.
During 2019, an additional 20 bus routes are expected to be launched and the figure will double next year. The new routes will link to the suburbs, new urban areas, shopping malls and tourist attractions.
Further, the city will seek ways to improve public transport services, collect fees from vehicles that travel into congestion-prone areas and gradually restrict motorcycles from entering inner-city districts in 2030 to increase the number of public transport users. SGT

Hanoi's Van Chuong is a special lane, where you can easily get lost when coming there for the first time.

An attractive Hanoi in autumn has always resonated deep feelings on those who fall in love with the one-thousand-year-old capital city.

The Hanoi People`s Committee assigned the municipal Department of Planning and Investment and CIS Investment Joint Stock Company to propose the official application of iParking.