On August 2, an additional 3,127 patients were discharged from the hospital in HCM City, bringing the total number of people recovered to 40,973.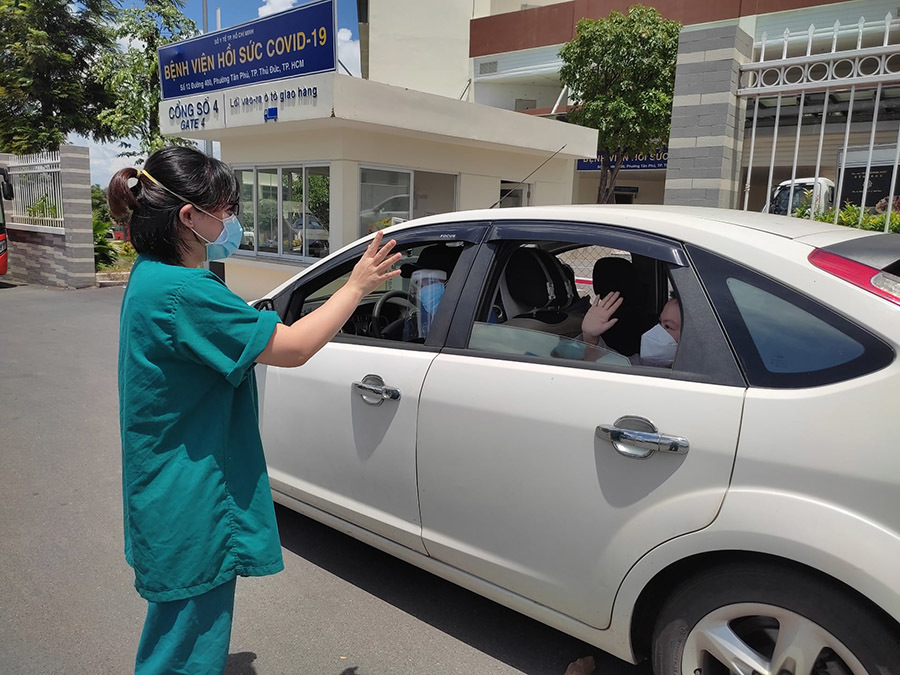 Doctors bid farewell to Covid-19 patients after they were discharged. Photo: Gia Dinh Hospital
According to the Ho Chi Minh City Center for Disease Control (HCDC,) as of 6 am on August 3, the city had 100,974 Covid-19 cases announced by the Ministry of Health, including 100,617 locally-transmitted cases.
Hospitals in the city are treating 33,474 Covid-19 patients, including 1,026 critically ill cases who need ventilators and 15 requiring ECMO intervention. An additional 170 Covid-19 related deaths were also recorded.
HCDC reported a new outbreak cluster detected in a residential area in District 4 on August 2, in addition to the 29 outbreak clusters that have already been zoned and closely monitored.
The city started the 5th Covid-19 vaccination campaign with 930,000 doses of AstraZeneca, Pfizer and Moderna vaccines o' July 22, which is scheduled to be completed within 2-3 weeks. According to the Department of Health of Ho Chi Minh City, as of 8:30 a.m. on August 3, the city administered 920,329/930,000 vaccine doses. On August 2 alone, 145,576 people were vaccinated, the highest number so far.
HCDC said that the city is coordinating with a network called "Companion Doctors" (coordinated by the Vietnam Young Physicians Association) to provide counseling for people infected or at high risk of contracting the SAR-CoV-2 virus in the community.
Based on the daily updated information of all infected people and those who have contact with infected cases on the shared database, the network will divide these cases for doctors who will contact patients and suspected cases to screen and classify risk levels, from 0 to 4, but still ensure the confidentiality of patient information. Local people can also call 1022 - press 3 for health care advice and support.
On August 2 nearly 538,490 people were vaccinated, the highest in a single day so far, taking the total number to nearly 6,959,200, with 712,860 people fully vaccinated.
If the number in the city reaches 500,000 doses a day or more, Vietnam is likely to complete the target of herd immunity by the end of 2021, according to the Ministry of Health. 
The number of infections since the fourth wave began at the end of April is nearly 170,000, with HCM City accounting for more than 100,000. 
Tu Anh

HCM City has called for local residents to "stay where one is" and people from other provinces to stay in the city where they will be fully taken care of, including vaccinations against Covid-19.

On August 1, an additional 3,207 Covid-19 patients were discharged from the hospital, bringing the total number of recovered cases so far to 37,846.