HCM City Party's Committee Secretary Nguyễn Thiện Nhân has approved a proposal to establish mobile inspection stations to deter rampant illegal sand mining cases in Cần Giờ Sea.
Illegal sand mining on Can Gio Sea has not been stopped
Illegal sand mining re-emerges in Hanoi
HCM City cracks down on illegal sand exploitation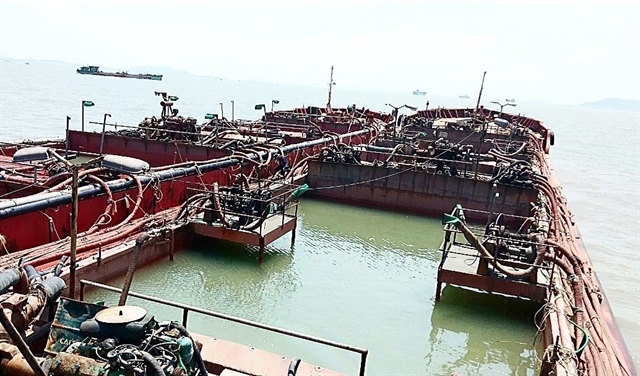 The HCM City Border Guards have seized four ships illegally taking sand at the Cần Giờ Sea and about 800cu.m of sand as object of evidence. The city will assign more inspectors to tighten management on the issue.
At a conference on measures to curb illegal sand mining in HCM City's coastal suburban Cần Giờ District, held on Tuesday, Nhân said the establishment of the stations could help reveal and handle the perpetrators of illegal mining while ensuring the flow of marine vehicles and protecting national security.
Lê Minh Dũng, chairman of Cần Giờ District's People's Committee, said the prevalence of illegal mining in Cần Giờ Sea was alarming.
The number of violations was on the rise every year, jumping from 12 in 2015 to 65 in 2018. Illegal mining has polluted the environment and caused erosion, threatening the lives of local people.
However, Dũng said, supervision remained weak and violators were creative.
Most sand mining is conducted at night. If caught, miners frequently submerge their barges or flee. In at least three cases, members of the police force were assaulted.
Phan Anh Minh, deputy head of HCM City's Police Department, admitted loose management by agencies had contributed to the increase in illegal mining.
Minh said the authorised agencies only focused on deterring violations by individuals instead of enterprises.
Sand mining enterprises often hired barges for individuals that they know conduct illegal mining. Minh said businesses must take responsibility for these decisions.
The agencies seemed to ignore maritime navigation equipment that could help them verify the records of each vessel.
Colonel Tô Danh Út, head of the city's Border Guard Command, told Tuổi Trẻ (Youth) newspaper that he was considering the location of inspection stations on Cần Giờ Sea, which was about four to five nautical miles from the mainland.
The command will submit its plan to the city soon.
Trần Vĩnh Tuyến, vice chairman of the city's People's Committee, said vessels of the city's border soldiers patrol key areas to tighten control until the final plan to establish inspection stations was approved.
Nhân said it was vital to get the operation schedules of violators in order to prevent violations.
Apart from an interdisciplinary team that has been set up in the city, Nhân requested the establishment of a provincial-level interdisciplinary team to promptly provide information and support.
He also asked the city People's Committee to propose amendments and supplements to regulations in the Government's Decree 33, which sets administrative penalties in the field of water and mineral resources.
Heavier penalties should be added to curb illegal activities.
Last year, the city's border soldiers arrested 75 violators and seized 75 barges with more than 12,000 cubic metres of illegally mined sand and 66 pumping machines. — VNS