A ring trafficking drugs from Cambodia to Ho Chi Minh City has been uncovered by the city's police after more than four months of investigation.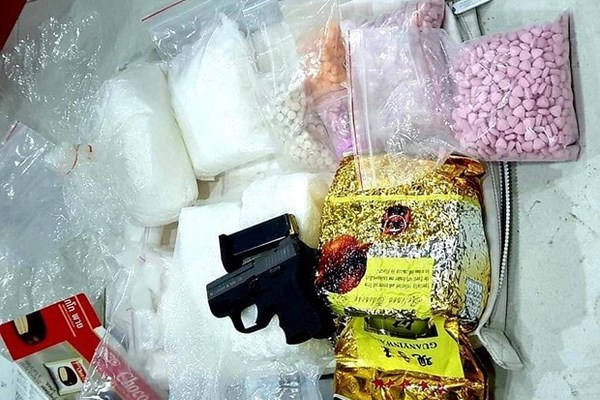 The drugs and weapon seized from the ring recently uncovered in HCM City
Police said on September 11 that they had arrested seven persons born between 1976 and 1996 involved in the ring, with all of them also drug users. Thirty-five kilogrammes of different kinds of drugs, along with two guns and 21 bullets, had been seized.
The ring hired two apartments in Thu Duc district and District 8 to cover their activities. They trafficked drugs from Cambodia to HCM City through the vicinity of Moc Bai Border Gate in the southern province of Tay Ninh.
Further investigation into the ring is underway.
At a ministerial meeting on drug crime combat in Hanoi on September 10, Colonel Vu Van Hau, deputy head of the police department for drug crime investigation under the Ministry of Public Security, cited data of the UNODC as showing that the number of methamphetamine trafficking cases uncovered in East and Southeast Asia rose 8-fold between 2007 and 2017, reaching 82 tonnes and accounting for 45 percent of all such cases around the globe. The seized meth in the region was estimated at 116 tonnes in 2018.
He also pointed out the complicated drug situation in Vietnam in recent years. So far this year, the country has uncovered more than 13,000 drug cases, detained over 20,000 persons involved, and seized nearly 5 tonnes and over 500,000 pills of synthetic drugs, more than 750kg of heroin and 571kg of dried marijuana./. VNA