Authorities in HCM City have completed a number of projects earlier than scheduled in an effort to prepare for the rainy season.
Tan Son Nhat Airport at risk of flooding during rainy season
HCM City develops new flood-prevention plan for rainy season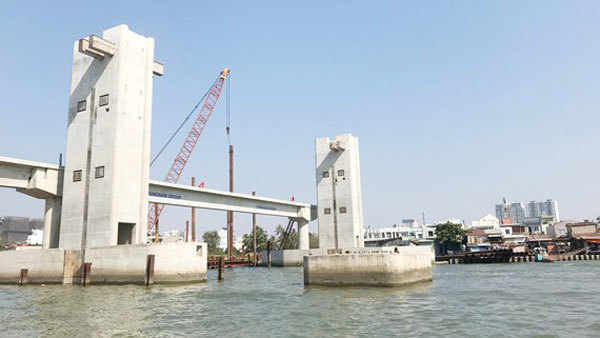 Many irrigation projects have been completed to prepare HCM City for the rainy season. Photo courtesy of sggp.org.vn
The area between Lo Gom Street and Minh Phung Street in District 6 was once a flooding hotspot that caused inconvenience for local residents.
However, District 6 has completed the first phase of a drainage project on Tan Hoa Canal and part of Hang Bang Canal, and the second phase, stretching from Pham Dinh Ho Street to Ngo Nhan Tinh Street, has started.
Another project to upgrade An Phu – Phu My Hung's irrigation system and a dyke on the Sai Gon River, a section from Ben Suc Bridge on Thai Thai Rivulet in Cu Chi District, has been completed and put into use.
For the 22 landslide-prone locations in Thu Duc, Nha Be and Can Gio districts, 17 projects have been carried out to fix the problem. Two of them have been completed.
According to research by the city's Department of Agriculture and Rural Development, around 549 irrigation and natural disaster prevention projects across 238km of land since 2014, worth VND3,698 billion, have been implemented.
As many as 389 projects, accounting for 70 per cent of the total projects, have been completed.
Speeding up work
Nguyen Van Truc, permanent member of the HCM City Steering Committee for Disaster Prevention and Rescue, said that construction work needed to be done more quickly to improve locals' quality of life.
Truc said he was concerned about slow implementation, such as the embankment reinforcement project at Cu Chi District's Sap Bridge.
The People's Committee in 2014 approved the project, but construction did not start until this year, impacting society, he said.
Truc added that about 62 projects benefiting from the HCM City Disaster Prevention Fund had not been completed, though the funds were supposed to be allocated for urgent projects.
Difficulties in compensation and site clearance were the main reasons behind the lateness of some projects.
To cope with the matter, the city's Department of Natural Resources and Environment, together with district People's Committees and investors, needed to step up efforts and hand over construction grounds on time, he said.
This would speed up tide and flood prevention projects, ensuring locals' safety during the rainy season.
Meanwhile, authorities are concerned that illegal riverbank encroachment has added weight on top of riverbanks, leading to the narrowing of streams, which could lead to landslides.
Authorities should conduct regular inspections and strictly handle violators, they said.
VNS