The HCM City Traffic Safety Management Board has instructed relevant district agencies to find and punish encroachment of roads and pavements.
VN pedestrians want pavement back
HCM City plans to clear illegal street markets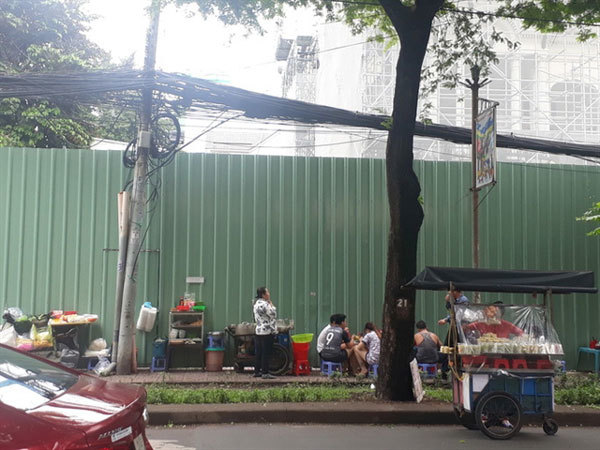 Shops and other businesses on Ba Huyen Thanh Quan Street in HCM City's District 3. — Photo nld.com.vn
At a recent meeting between the board and the Go Vap District People's Committee to discuss encroachment hotspots in the district, Pham Van Dong and Dang Van Sam streets were identified.
These two roads have many shops and other businesses that encroach on pavements and street and remain open until midnight. People find it difficult to use Dang Van Sam Road because its pavements are occupied by local residents and street vendors.
According to the City's Traffic Safety Management Board, several districts in the city also have the public space be infringed upon.
In many cases, owners of houses use nearby roads and pavements for parking vehicles and displaying goods and signboards.
Roads and pavements are also used for funerals, wedding parties and other such purposes, and these have negative impacts on traffic safety, order and the city's appearance, he said.
According to the board, 15 of 178 streets it inspected faces major traffic problems caused by encroaching businesses, including Vo Van Tan, Nguyen Chi Thanh, Thuan Kieu, Nguyen Tri Phuong, Le Quang Sung, Minh Phung, Ong Ich Khiem, and Kinh Duong Vuong.
Officials from all district committees agreed that they face challenges and difficulties in restoring order on roads and pavements.
Nguyen Huu Nghia, vice chairman of the Go Vap District People's Committee, said campaigns are under way to remove unlicenced shops and businesses on Pham Van Dong Street, but as soon as one shop is raided, other encroachers in the vicinity clear away the furniture and boards that they put on the road or pavement.
Furthermore, a number of roads run through multiple districts, including Dang Van Sam Street which runs through Go Vap, Tan Binh and Phu Nhuan, and campaigns to clear encroachers here require co-ordination between the three districts, he said.
Nguyen Ngoc Tuong, deputy chief of the board, has called on inspectors from his agency and district authorities to improve oversight to prevent encroachment and penalise violations. VNS