Hoi An is facing a water crisis which has badly affected the daily lives of local people as well as tourism activities.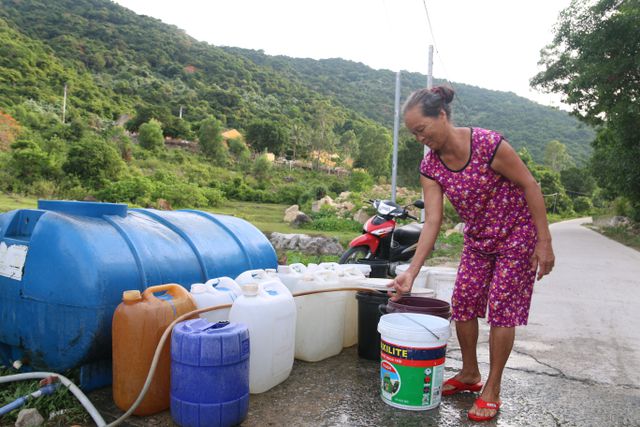 Cu Lao Cham Island faces water crisis
The water shortage began after the Thu Bon River was flooded by saline water two months ago. Nguyen Hung Linh, vice chairman of Cam Thanh Commune, said 70% of the residents suffered from the current water shortage.

Cam Thanh Commune has a beautiful Bay Mau Coconut Forest which attracts thousands of tourists each day.
The water shortage has slowed down local businesses as accommodation facilities refused to receive guests. In areas that were invaded by saline water, every daily activity became much harder.

A hotel owner in Cam Pho Ward said they had to use well water to continue business.

Cu Lao Cham Island in Tan Hiep Commune is also in a water crisis due to the prolonged heat wave. Freshwater on the Cham Islands depends wholly on the weather.
Nearly 3,000 residents on the island depend on the stream water in Bai Bim and have to dig more wells to support themselves.
Moreover, the island welcomes 3,000 tourists each day which puts more pressure on the water supply sources.

Mai Quoc Bao, vice chairman of Tan Hiep Commune, said there wasn't any rain in the past two months and their water sources were drying up.
"When Storm Mun passed by, there were some rains but they weren't enough. Our freshwater source is only good for now. We don't know what will happen if this situation continues," he said.

According to Hoi An Water Supply and Sewerage Company, Hoi An Town consumes over 15,000 cubic metres of water each day.
The company mostly takes water from Vinh Dien River. However, because of the heat and saltwater intrusion, they can't use river water anymore. As a result, the provided water only reached two-thirds of the normal capacity.

Another reason is because of weak water pipes. Rapid tourism development means more hotels and guest houses while infrastructure development lags behind.

On July 15, Nguyen Van Son, vice chairman of Hoi An Town, said since they couldn't use water from Vinh Dien River, the water supply company had turned to Tu Cau River so the situation had improved. Dtinews
C.Binh

The ancient city of Hoi An will host a 'lantern night' in the streets of Wernigerode, its twin town, in Germany as part of cultural co-operation between the two cities from August 23-25.

Free drinking water taps have been installed in four locations in the ancient city of Hoi An.