A high school student in Gia Lai Province has set up 15 charity projects to help students from low-income families.
Le Van Phuc

Le Van Phuc, a 12th grader at Hung Vuong High School, is leading the Fly to Sky Charity Club. Phuc has had outstanding academic achievements. He has been an outstanding student for eleven academic years and won third prize at provincial and national geography competitions. He was also selected to attend the 8th Vietnam Youth Union National Congress.
"I have loved geography since I was in 10th grade. I started reading more books about it which helped me a lot during the competitions," he said. "I have never stopped reading books and online. Continuous learning has expanded my vision and I have also visited authors to learn more."
Phuc will be admitted to the university after winning third prize in the national geography competition. Phuc said he wanted to continue learning geography at the University of Social Sciences and Humanities - Vietnam National University, HCM City, and become a geological engineer or work in the environment or meteorological and hydrology fields.
Phuc is also a devoted charity worker. After reaching high school he also helped organise charity works for disadvantaged people, especially poor students. The Fly to Sky Club was set up by Phuc and his friends on September 2, 2018.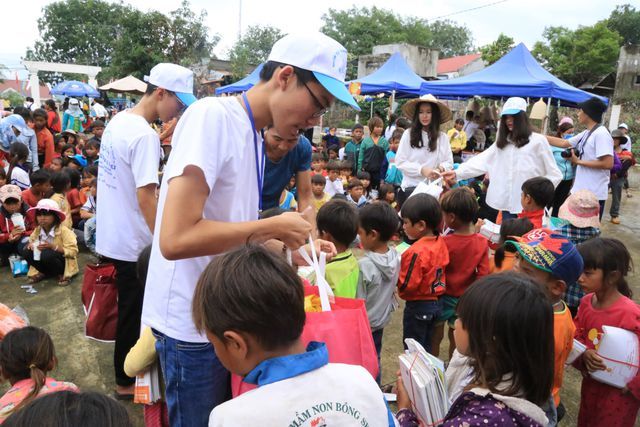 Phuc's club has organised many events to help people
At first, the club has 40 members, most of whom were Phuc's schoolmates. As of now, the club has had up to 90 members and the youngest is only 15 years old.
During free times, Phuc and his friends sell flowers, school supplies and organise music shows to raise funds for poor people. They had met a lot of difficulties because not many people were willing to trust them due to their young age. They organised small charity works with what they had and gradually gained more trust and support.
In order to realise his dream to provide free books to students in remote areas, Phuc had written to publishers and organise a tree-for-book exchange programme.
After one year in operation, the club has held 15 projects with VND200m (USD8,600) of investment and given over 2,000 books to the children in needs. They then gave two bookshelves to the Yang Nam Primary and Secondary Ethnic School and Ha Huy Tap High School in Kong Chro District.
"It saddens me when I see unfortunate lives and I want to do something to help them. If everyone gives a hand then the living condition of the poor will improve as lonely elderly people will have a proper room and children will be able to go to school," he said.
"I and the school feel proud about Phuc. I hope more students will follow Phuc's example and are good at their studies and be able to help other people," said Le Thi Thu, head of Hung Vuong High School. Dtinews

A charity photo collection has been released with each of the images depicting two Vietnamese beauties appearing alongside an elephant amid majestic scenery.

More free second-hand clothes booths for the poor have appeared on Hanoi streets.