Hundreds of karaoke facilities which have been suspended still illegally operate in many districts in Hanoi.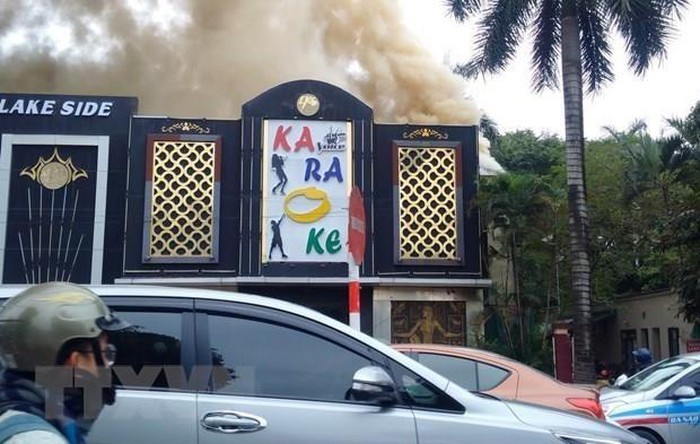 A fire broke out at Lake Side Karaoke
The problem was raised during the meeting session on July 9 of the Hanoi People's Council. Members of the people's council have questioned leaders of districts and departments about karaoke businesses and fire safety in the capital.
Hanoi has seen many fires broke out at unsafe karaoke bars. As a result, 526 facilities were suspended but 323 have continued to operate illegally. Most of them are in Dong Anh, Thach That and Me Tri districts.
The Department of Culture and Sports was then questioned about the lack of co-operation with local authorities to deal with violations at karaoke facilities.
Chairman of Dong Anh District Le Trung Kien, said they had suspended 66 facilities. As of now, 46 facilities have taken on other businesses while the other 20 are being upgraded to meet fire safety standards.
Chairman of Thach That District Tran Duc Nguyen admitted that there were illegal karaoke facilities in their area. In the first half of 2019, they had discovered 16 facilities and issued VND195m (USD8,400) in fines.
Nguyen said they would apply stricter measures to deal with the violations. Meanwhile, Chairman of Me Linh District Doan Van Trong said they would publish the name of 25 illegal facilities in the area.
According to To Van Dong, director of the Department of Culture and Sports, said 1,000 out of 1,600 facilities in Hanoi failed to meet fire safety standards. He admitted that many suspended facilities still operated illegally. In November 2016, Hanoi stopped issue business licenses to karaoke facilities due to fire safety problems.
Hanoi Police Department said the monitoring and management at many localities authorities were lax.
At the end of the meeting, Hanoi People's Council asked related agencies to keep monitoring the situation and strictly deal with any violations.
Dtinews/TTXVN

Hanoi is home to many tourist attractions with more than 5,000 historical, cultural and architectural relics and thousands of unique traditional festivals.

After 20 years since being awarded the title 'City for Peace', Hanoi has constantly made efforts to become a modern city imbued with a rich national identity, preserving the title awarded by UNESCO.