Similar to other Southeast Asian countries, Vietnamese children are at a large risk of malnourishment due to the abundance of instant noodles in their diet.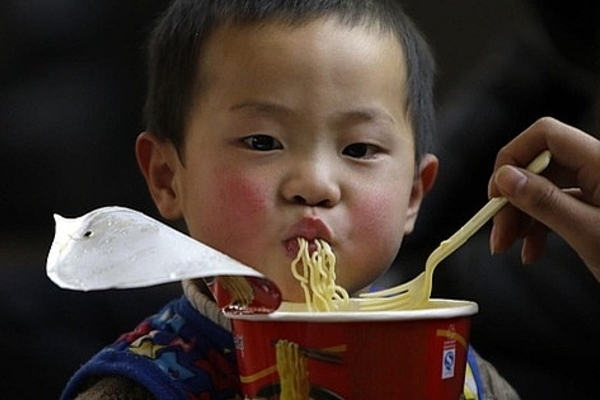 Millions of Southeast Asian children eat instant noodles for their main meals (source: Reuters)

The constant use of instant noodles for cooking is one of the main reasons behind the serious malnutrition in Southeast Asia, according to the UNICEF.
Accordingly, instant food products like noodles and cookies could help fill stomachs but lack the essential nutrients for children's growth.
Despite not being listed on the UNICEF's warning review, Vietnam is still facing the risk. In 2018, the country consumed 5.2 billion packages of noodle, up 2.7 per cent on-year.
The country also ranked fifth in instant noodle consumption, following China's 40.25 billion packages, Indonesia's 12.54 billion packages, India's 6.06 billion packages, and Japan's 5.78 billion packages.
With the population of 95 million in 2018, Vietnamese people consume an average 55 packages of noodle a year, more than China's 31 packages, Indonesia's 46 packages, and Japan's 45.8 packages.
The local market currently has about 50 instant noodle companies, of whom Acecook Vietnam occupies 43 per cent of the market, and the rest are mainly held by Masan and Asia Food.
Promoting the instant noodle product Hao Hao, Acecook Vietnam boasted of supplying more than three billion meals for Vietnamese people annually. This partly reflects the popularity of instant noodles in the country.
Besides Vietnam, the UNICEF's report on October 15 also named the Philippines, Malaysia, and Indonesia as the region's leading countries in the number of malnourished children, with the average rate of 40 per cent, higher than the 33 per cent global average.
Accordingly, Indonesia had 24.4 million malnourished children, the Philippines' 11 million children, and Malaysia 2.6 million children.
Similar to Vietnam, these are developing countries with fast economic growth. Fuelling this growth, parents in these countries are commonly busy and have no time to cook meals for their children.
Instant noodles are a convenient and reasonably priced choice.
Poor nutrition habits are common in Vietnam, and if instant noodles stay prevalent in diets, the country may be put under review by the UNICEF.
Malnutrition is a big concern in Vietnam. The UNICEF also showed that Vietnam currently has 1.8 million malnourished children, occupying a quarter of the total child population. This means that one out of six children are malnourished. VIR
Van Anh