Demand for workers in HCM City and other manufacturing hubs in the south has been high and rising after the Tet (Lunar New Year) holidays driven by a business recovery as COVID-19 recedes.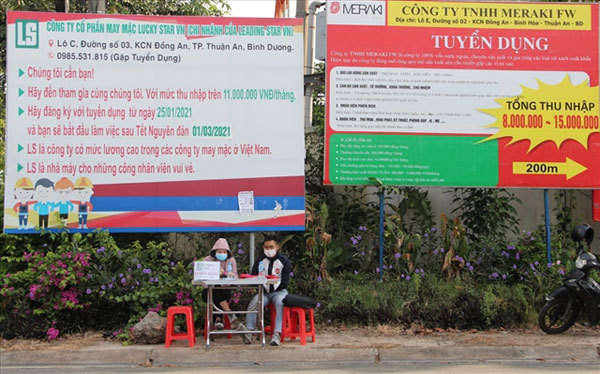 A company in the southern province of Binh Duong advertises job openings. Photo laodong.vn
Companies in the city's industrial parks and export processing zones need around 12,000 workers, including 2,540 with a university degree, according to the HCM City Export Processing and Industrial Zones Authority (HEPZA).
Another 4,700 jobs are available for applicants with college and vocational education, and the rest are for manual workers, Hung Hua Quoc Hung, head of HEPZA, said.
The textile and footwear sectors have the largest demand, he added.
The HCM City Centre for Forecasting Manpower Needs and Labour Market Information said the city overall is expected to need 30,000 workers after the Tet holiday.
Do Thanh Van, deputy director of the centre, said trade, services, textile and footwear, food processing, logistics, IT, plastics, and chemicals are among the industries with the highest recruitment demand.
PouYuen Việt Nam Co. Ltd in Tan Binh District, one of the companies with the largest demand, needs more than 2,000 workers for various positions such as IT technicians, office and purchase staff, secretaries, quality management staff, and manual workers.
Le Minh Tan, director of the city Department of Labour, Invalid and Social Affairs, said all businesses have resumed operations after Tet with around 96 per cent of workers returning to work.
In Binh Duong Province, a manufacturing hub, more than 95 per cent of workers have returned, according to its Federation of Labour.
The federation also said 916 enterprises require 95,983 workers after Tet.
Dong Nai Province, another manufacturing hub, too needs thousands of workers to meet the expected increase in production this year.
Cao Duy Thai, head of the wage office at the province Department of Labour, Invalid, and Social Affairs, said the worker turnover rate during Tet this year is unusually low since more and more enterprises are offering benefits to retain workers, making it a tough to hire new staff. 
Positive hiring outlook
According to ManpowerGroup Vietnam's 2021 Employment Outlook survey, employers in various industries are expecting hiring to recover and grow in the first half of 2021 despite the continuing pandemic.
The survey polled 442 human resources and talent acquisition executives in 16 industries.
While 36.4 per cent said their businesses were slightly impacted by the pandemic, nearly 50 per cent said they still operate normally.
Some 56 per cent anticipated a payroll expansion while 37 per cent said they would maintain the headcount.
Only 6.6 per cent plan to lay off workers.
Two-thirds expect hiring to increase within the next three months, and 22 per cent foresee an expansion in the next six months.
The biggest recruitment plans in the period are in manufacturing, construction, wholesale, retail and trading, and transport and logistics.
The construction sector saw a revival thanks to economic growth, and accounts for a fifth of all companies planning to hire, the same as manufacturing.
Nguyen Thu Trang, country head of permanent recruitment, executive search and consulting services at ManpowerGroup Vietnam, said: "Thanks to the effective control measurements and the strong anti-epidemic compliance of the Vietnamese, the economy is showing signs of positive recovery. In addition, foreign investment continues to flow into Vietnam, creating more business and job opportunities.  VNS

Graduates of vocational schools have many job opportunities due to businesses' increasing demand for workers with practical skills.

Nguyen Quang Dong, Director of the Institute for Policy Studies and Media Development, talks about Vietnam's efforts to master science and technology production to help it achieve the goal of becoming a high-income country in 2045.