The Ministry of Construction has asked cities and provinces throughout the country to make reports on land available for social housing projects.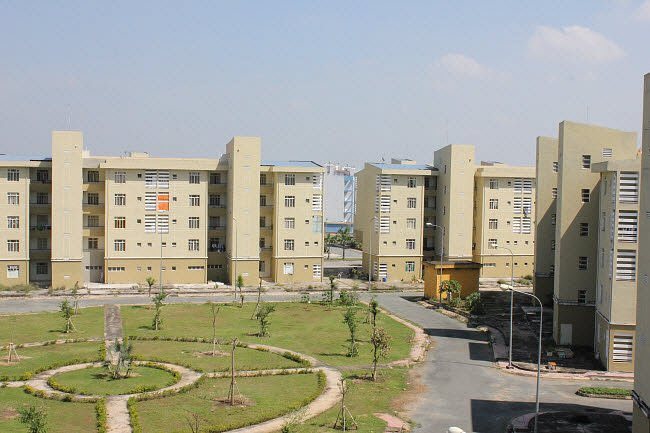 A social housing project in HCMC's Binh Chanh District. The Ministry of Construction has asked local authorities to report on land available for social housing projects
The ministry had earlier been assigned to control the planning and use of land in urban areas to develop social housing projects and report the results to the prime minister this quarter, Lao Dong newspaper reported.
According to the ministry, the country needs some 440,000 social homes in the 2011-2020 period. Of this total, HCMC needs 134,000 units; Hanoi, 110,000; Binh Duong, 41,250; Dong Nai, 36,700; and Danang, 11,500.
Hanoi has set a target to develop nearly 4.7 million square meters of apartment for low-income people, and more than 567.2 square meters for workers, by 2020.
Meanwhile, HCMC is building 39 social residential projects, which include over 44,700 apartments, and is expected to complete 20,000 units by 2020.
Nguyen Tran Nam, former Deputy Minister of Construction and chairman of the Vietnam Real Estate Association, said the demand for homes, especially social ones, is high in Vietnam.
Under the prevailing regulations, 20% of land for housing and urban area projects covering more than 10 hectares must be set aside for social homes. However, many localities have failed to comply with the regulation, Nam noted.
The Government Inspectorate has recently pointed out many violations in the management and use of land in a large number of projects in Hanoi.
Surveys showed that local residents' houses have an average area of 24-25 square meters each. However, some households have an area of hundreds of square meters per member, while others have homes with less than six square meters for each member, Nam added.
He said the country has seen an increase in social housing projects since 2009, when the Government issued resolutions on the development of social homes for workers and students, and spent VND17 trillion on these projects.
Le Hoang Chau, chairman of the HCMC Real Estate Association, said the inadequate supply of social homes has created fertile ground for investors to seek profits.
Lawyer Bui Sinh Quyen, head of Phuc Tho law office in Hanoi, agreed with Chau and warned of the risk that social homes may be sold to ineligible customers. If so, these customers will be put at risk if there is any problem with the projects.
Vu Van Phan, deputy director of the Housing and Real Estate Market Management Agency under the Ministry of Construction, was cited by Tien Phong newspaper as saying that many investors were keen on developing social housing projects when the property market cooled and the Government offered multiple incentives for such projects. Some had even converted their commercial housing projects into low-cost social ones.
At present, the market has recovered, so investors are no longer interested in social housing projects, Phan added. SGT