The roads children are forced to take to school in the poor mountainous district of Ngoc Dinh in the southern province of Dong Nai used to be a hazard, particularly during stormy weather.
Nearly 4,000 bridges to be built in remote areas
Students help build bridges to a better life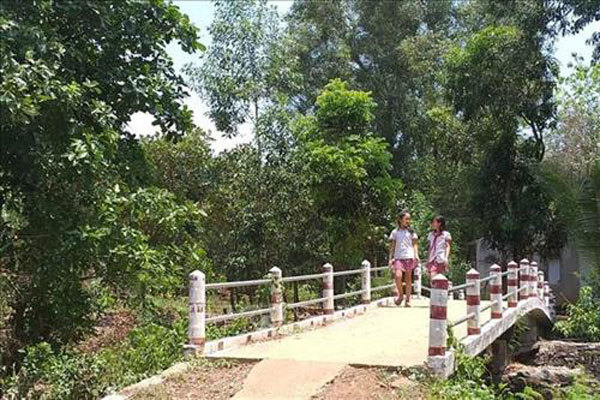 A new concrete bridge connecting Gia Canh Commune with Phu Loi Commune in Dong Nai Province. VNA/VNS Photo Le Xuan
Ramshackle wooden bridges would become unstable, and were sometimes swept away.
But now all that has changed thanks to local man Nguyen Ngoc Son who has been raising funds to build concrete bridges.
Over the past five years, Son, 56, from the province's Gia Canh Commune, has poured all of his enthusiasm and kind-hearted support into finding donors for the construction of seven solid concrete bridges to replace makeshìft and outdated ones across rivers and canals throughout poor areas in the district.
The bridges have not only helped with connectivity in the area, they have provided safer conditions for children to go to school.
Son said the idea to replace the degraded bridges came when he witnessed the death of two pupils who were crossing a wooden bridge over a canal in Ngoc Dinh Commune on a rainy day.
He remembers clearly that tragic day when a group of five children were swept away due to the fast flowing water.
Local residents managed to rescue three of them, but it was too late for the other two.
Dinh Quan is an underprivileged district where many people lie in poor conditions. In order to cross waterways, they had to use wooden planks to make temporary bridges.
In the rainy season, these temporary bridges proved to be highly risky and dangerous. Accidents occurred often causing injuries and even death.
Tran Thi Yen, a resident of Hamlet 6 in Gia Canh Commune, said her family lived right next to one of those bridges and she had witnessed many accidents. She and her family had also rescued many victims who fell into the stream.
She recalled that on numerous occasions she had heard a loud splash that alerted her that someone had fallen in.
People shouted and rushed to the bridge to save them.
Yen revealed her young daughter had also slipped and fallen into the water.
From then on, every day, Yen and her husband had to take turns taking their child across the bridge before going to work.
Yen said the old wooden bridge had been replaced by a concrete one thanks to support from Son, who she is extremely grateful to.
Son said he had vowed to wipe out the threat and started reaching out to his friends for their help.
"Through some of my contacts, I got in touch with people at a local association called 'Nhịp Cầu Vui' (Joyful Bridges) and found common thoughts and voices," said Son.
Son organised visits for the association's members to local areas where bridges needed replacing. Surveys were conducted and residents were spoken to about their feelings, hopes and needs.
"Then solid concrete bridges were built over the rivers and streams to replace the dangerous wooden ones," he said.
Creating trust among local people and donors was very important on his mission.
After the bridges were completed, they were opened with the attendance of local authorities, sponsors and residents, said Son.
Le Thi Thuy, a cashew farmer from Phu Loi Commune said the new bridge had helped her family's production.
"Before it was difficult to transport our harvest, I was forced to sell our products to traders for a very low price. Since 2017 when the new bridge was built, cars have been able to reach our farms directly so competition is higher, and like many farmers, we are no longer forced to sell at low prices. Our life has improved, and our children can go to school without worrying about accidents during the rainy season," said Thuy.
One of these bridges connects Hamlet 4 in Gia Canh Commune with Hamlet 6 in Phu Loi Commune.
The bridge cost over VND100 million (US$4,300) and was opened in 2017.
To date, Son has raised funds to build seven bridges in Gia Canh, Ngoc Dinh, La Nga and Thanh Son communes at a total cost of VND615 million.
He has also raised VND390 million to provide 650 scholarships for poor students, a regular annual allowance of VND3 million each for 16 students until university entrance and a monthly subsidy of VND300,000 each for 32 elders in the district.
In addition, Son has called for support for the construction of a house worth VND45 million for a family in the district.
He said this year, he expects to raise funds for five more bridges in Suoi Nho, Phu Tan and Thanh Son communes.
Vice Chairman of Gia Canh Commune's People's Committee Dao Ngoc Anh said local authorities appreciated Son's charity work and would do their best to help him in the future.
VNS