It's unclear if turtles have heroes, but if they do, Le Ba Lai is probably their Superman.
Quang Nam to release seven rare turtles back to nature
Hatchery project to save sea turtles in Cu Lao Cham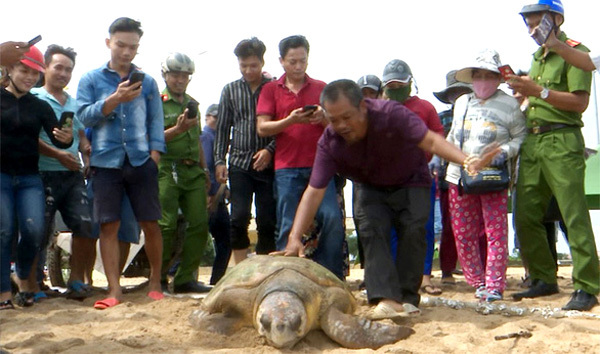 Le Ba Lai releases a 80-year-old sea turtle which weighs 150kg to the sea. Photo tuoitre.vn
That's because the restaurant owner in Tuy Hoa City, the south-central coastal province of Phu Yen, has spent the last five years saving sea turtles from being eaten and releasing them back into the ocean.
Lai doesn't know exactly how many turtles he has saved, but he does know his actions protect this rare species of animal from being harmed by humans.
On April 30, he heard that a fisherman in Dam Mon Hamlet in Khanh Hoa Province had brought to the shore a 40kg turtle stuck in his fishing net.
Lai did not hesitate to travel more than 50km to find the fisherman and persuade him to release the turtle back to the sea.
Several days later, Lai persuaded fishermen in An Chan Commune, Tuy An District to give him two turtles weighing 13.5kg and 2.5kg.
Lai and local sea border guards travelled to two nautical miles from the shore to release the animals.
Convincing the fishermen to hand the turtles over can be tricky, as they want to eat them, so Lai offers them beer and chicken in exchange.
Lai also tells the fishermen that turtles are on the verge of extinction and not releasing them back to sea is an offence.
In October 2018, while swimming, he found a giant turtle weighing 150kg on the shore, surrounded by young people who wanted to take it home and cook it for dinner.
Lai by himself put the turtle on his tricycle and reported it to authorities before releasing it back to the sea.
Tran Ngoc Nhan, head of aquatic resources conservation department of Phu Yen Province, said the rescued turtle was 80 years old and a rare animal in need of urgent protection, according to Convention on International Trade in Endangered Species of Wild Fauna and Flora.
Sea animal protectors like Lai should be praised, Nhan said, adding that he hoped his actions would raise public awareness of wild animal protection.
At first, Lai released turtles to the sea by the shore by himself. However, the released turtles could get stuck in fishing nets near the shore.
In recent years, whenever he found turtles, Lai reported them to sea border guards, environment police officers and aquatic resources conservation department to find a safe area to release them.
As the owner of a restaurant, Lai was suspected of having dark motives when he tried to persuade others to give turtles to him.
"I don't care what others think about me. The only thing I want to do is to rescue the rare species of wild animal, by any means," he said.
"I want fishermen who accidentally catch turtles to release them back to the sea as soon as possible to give them back to the peaceful life in which they belong."
Duy Thanh
VNS