A mass performance of physical exercise by 6,000 pupils from 64 primary schools in Vinh Long has been named in the Vietnam Guinness Book of Records for the largest number of student participants in such event.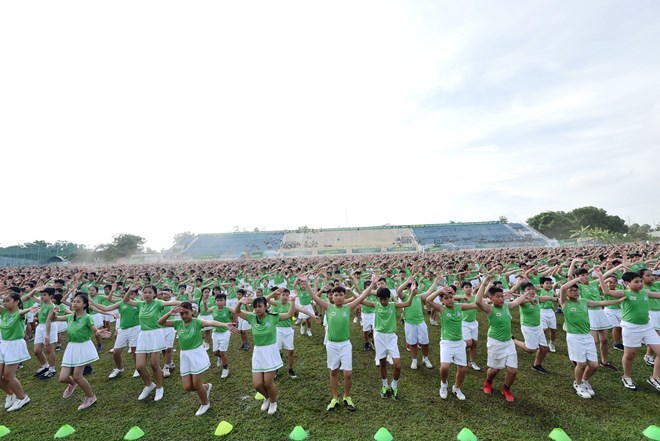 6,000 pupils from 64 primary schools in Vinh Long perform a mass physical exercise (Photo: baochinhphu.vn)
Taking place at the Vinh Long stadium on April 27, the exercise was co-organised by the provincial Department of Education and Training and Nestle Milo brand.
Nguyen Thi Quyen Thanh, head of the department, said the event encourages pupils in Vinh Long to engage more in physical activities, thus becoming healthier.
The Government has recently approved a project to ensure proper nutrition and improve the physical fitness of students.
Under the project, all educational and vocational institutions nationwide will fully implement the regulations on physical activity for students via both key and extracurricular activities. Each student will be expected to have at least one hour of physical exercise every day as recommended by the World Health Organisation.
According to the Ministry of Education and Training, a morning and break-time exercise programme to ensure frequent practice for students is being promoted in the sector.
Nestle Milo has worked with the ministry to design new physical lessons and launch the exercise programme in many primary schools nationwide.-VNA