Vietnam has destroyed over 1.2 million pigs while the African swine fever is still spreading according to the Ministry of Agriculture and Rural Development.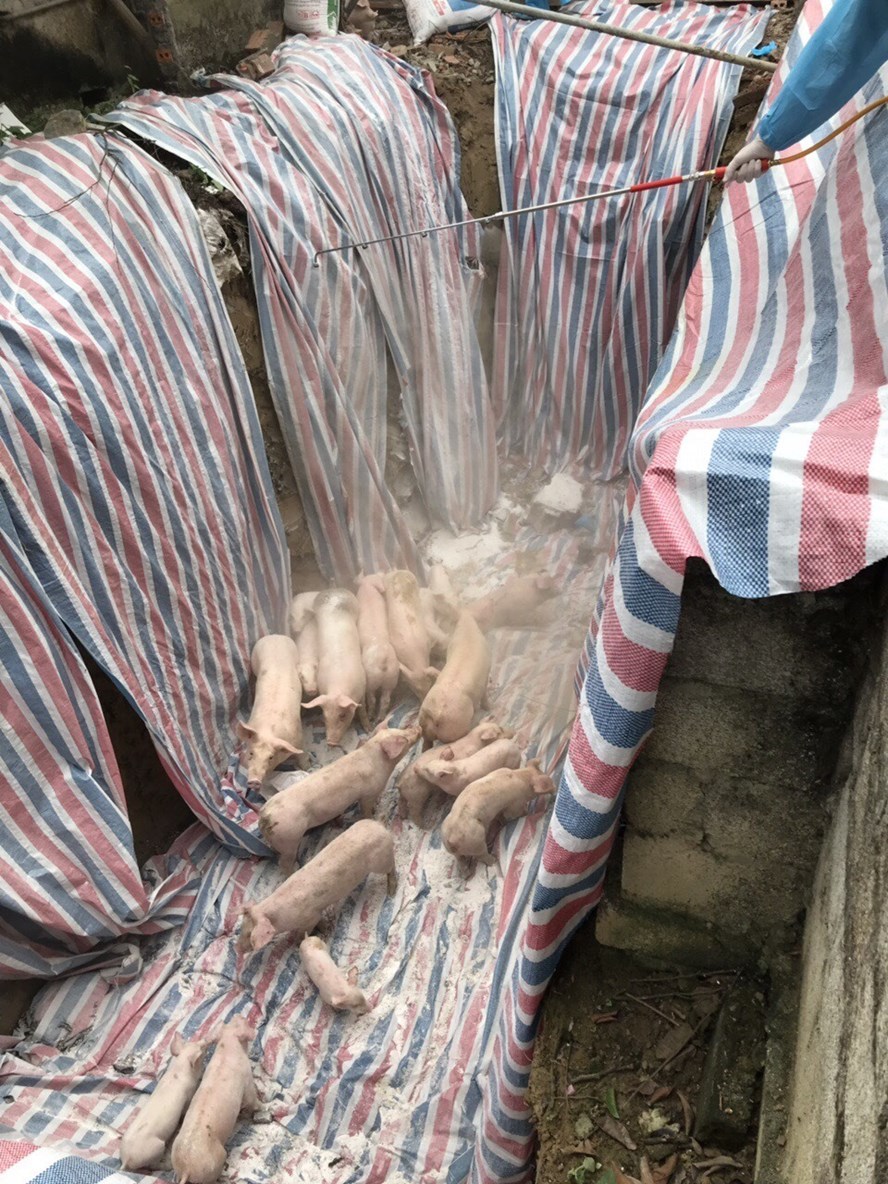 Vietnam has destroyed over 1.2 million pigs
Reports from the Veterinary Department under the Ministry of Agriculture and Rural Development show that as of May 12, African swine fever has been detected in 2,296 communes, 204 districts of 29
provinces and cities. Over 1.22 million pigs have been destroyed, accounting for 4% of Vietnam's farmed pigs.
African swine fever has a 100% death rate and there's still no vaccine or cure for the pigs. The virus can be found on the equipment at the farm or on the clothes of the farmers.
The situation in Vietnam is still complicated due to a large number of small farms where many people don't pay enough attention to veterinary hygiene and biosafety. Moreover, there are many shortcomings
with the culling and slaughtering processes.
According to the Ministry of Agriculture and Rural Development, Vietnam has over 2.5 million pig-raising households. Since many are located among the residential areas, especially in the Red River Delta, it's
difficult to implement biosafety measures. The hot weather also creates a favourite condition for the virus to spread to other districts and provinces.
In some areas, the virus returned after 30 days. The ministry worried that the virus may spread to industrial pig farms.
Local authorities, as well as the police and military, were asked to quickly destroy the sick pigs 24 hours after they are found and disinfect the farms as quickly as possible. Localities that have sick pigs should
set up a monitoring station to control animal and meat transportation and prevent the disease from spreading.
ASF virus has long survival rate in processed meat products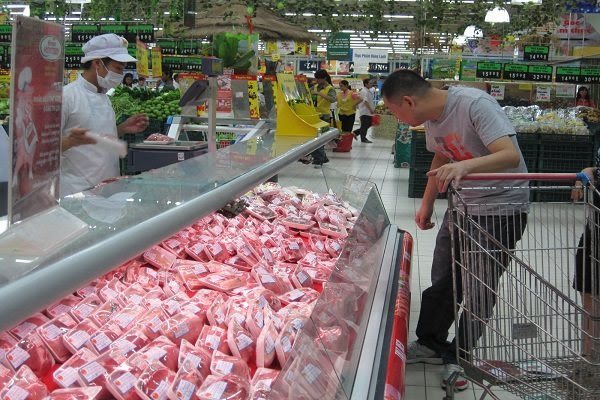 A customer selects meat products at a supermarket. The ASF virus can survive for a long time in processed meat products
The African swine fever (ASF) virus can survive for several months in processed meat products, such as sausage, jambon and salami, and up to 1,000 days in frozen meat products.
The virus' strong immune system enables it to survive for 70 minutes at 56 degrees Celsius; 20 minutes at 70 degrees Celsius; and one minute at 100 degrees Celsius, according to Phung Duc Tien, deputy minister of Agriculture and Rural Development.
Also, it can live comfortably at a pH ranging from 3 to 11.5 and on the surfaces of farming tools, vehicles or the clothes of farmers for many days, Tien said at an online conference on evaluating the threat posed by ASF and mapping out solutions to curb its spread, held on May 13.
Data from the National Steering Committee on the prevention and control of ASF show that the disease is contagious, untreatable and fatal in pigs. It has shown complicated development and has rapidly spread to many countries, especially those sharing a border with Vietnam, leaving a major impact on the local livestock sector.
ASF can be transmitted quickly among pig herds, especially as many local pig farmers and operators are raising large numbers of pigs but have not met standard farming safety and hygienic regulations. In addition, the transfer and slaughter of pigs suspected of being infected with ASF remain common, said Tien.
ASF has hit over 2,200 communes of 204 districts in 29 provinces and cities across the country, with the total number of pigs being culled exceeding 1.2 million, accounting for some 4% of the nation's total supply of pigs. The disease has reoccurred in 29 communes of 12 localities.
However, the fight against ASF outbreaks has been inefficient, Tien added.
Some localities did not take the initiative to monitor and report ASF outbreaks in a timely manner, and local authorities and the competent agencies remained indifferent to the outbreaks. Consequently, pig farmers offloaded their diseased pigs, leading to the spread of the disease.
Also, some localities failed to cull diseased pigs within 24 hours of disease detection, or local farmers culled the pigs themselves and threw the carcasses into the rivers.
The local livestock sector now faces difficulty in containing the highly contagious disease, which has caused serious economic losses for the country, Tien said.
In responding to the complicated development of ASF, Deputy Prime Minister Trinh Dinh Dung asked the Ministry of Industry and Trade to work with ministries, departments and local authorities to adopt measures to step up pork purchases, slaughter and storage, aiming to ease the pressure of culling diseased pigs and to balance the supplies of pork products for the year-end months.
Members of the national steering committee must form working teams for localities to inspect efforts to prevent and fight against ASF. For households and businesses culling pigs, the agriculture ministry and relevant units have to propose appropriate policies to support them, the deputy prime minister stressed.
Lao Dong/Dtinews