The Ministry of Agriculture and Rural Development is strengthening the task of prevention and control of the Fall Armyworm that is damaging corn fields in the country.
 Farmers optimistic about genetically modified maize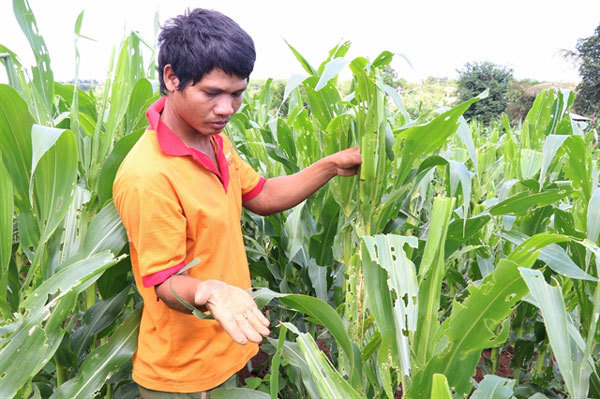 The Fall Armyworm has damaged corn fields in the Tay Nguyen (Central Highlands) province of Gia Lai. — VNA/VNS Photo Du Toan
The Fall Armyworm (Spodoptera frugiperda), a pest which has appeared in most corn-growing areas in the country, has affected a total of 15,000ha of corn, according to reports of provinces and cities nationwide.
The insect is expected to cause damage to more corn growing areas, threatening to disrupt the country's corn yield if it is not controlled properly, according to reports.
The pest, which is native to the Americas, was first reported in April.
Nguyen Xuan Cuong, Minister of Agriculture and Rural Development, has asked localities to survey the areas of corn and other crops infected with the pest.
Farmers should follow the advice on prevention and control from the ministry's Plant Protection Department, he said, adding that localities need to be informed about the life cycle of the pest and initiate control measures.
He also asked localities and farmers to use bait traps to catch mature pests, destroy eggs and young larvae by hand, and clean fields to reduce the density of the pest.
Localities should use pesticides when the pest's density is high and only use those allowed by the ministry's Plant Protection Department, he said.
Corn varieties resistant to the Fall Armyworm should be used for cultivation to replace other varieties damaged by the pest, he added.
The ministry's Plant Protection Department will work with the UN's Food and Agriculture Organisation (FAO) and international organisations on Fall Armyworm management, he said.
He has asked the country's research agencies to continue to research breeding parasites and the natural enemies of Fall Armyworm.
In the larval stage, the Fall Armyworm prefers corn but feeds on more than 80 species of plants, causing significant damage to crops, according to the FAO.
VNS