The area of land needed for the Long Thanh International Airport project in Dong Nai Province in the first phase has been adjusted upward to 1,810 hectares from the original 1,165 hectares.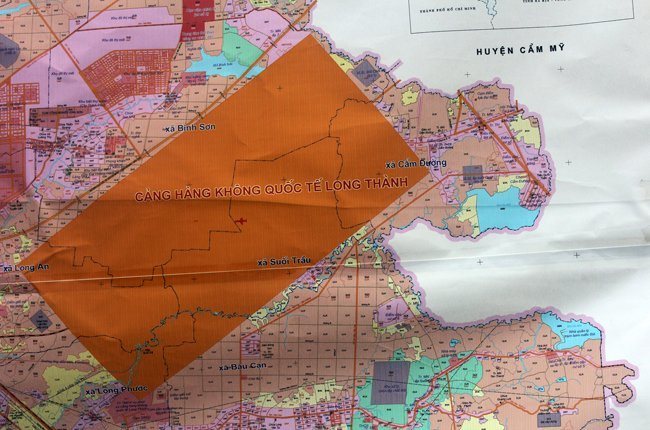 A map of the Long Thanh airport project site in Dong Nai Province. The province has agreed to add more land to the project
The People's Committee of Dong Nai Province has written to Airports Corporation of Vietnam (ACV) approving the land area adjustment plan.
Also, the provincial Department of Natural Resources and Environment has been asked to work with Long Thanh District and the relevant agencies to determine the exact boundaries of the project and expedite site clearance work.
Earlier, ACV wrote to the provincial government, noting that the project's prefeasibility study had excluded land for functional zones, including a warehouse, an express cargo terminal and other facilities for technical services.
Accordingly, ACV suggested the provincial government review the demand for land and expand the area assigned to the first phase of the project.
A report by Long Thanh District showed that 5,000 hectares of land will be recalled, so more than 4,700 local households and individuals and 26 organizations will have to relocate to make room for the project.
Among some 15,000 people affected by the project, 70% are farmers, while the remainder work at rubber farms or have other jobs.
Site clearance and resettlement costs total VND23 trillion. Of this, the National Assembly has approved the use of VND5 trillion from government bond sales in the 2017-2020 period to complete site clearance, while the remainder has yet to be finalized.
In addition, the Ministry of Transport is currently working on the prefeasibility study, which will be presented to the National Assembly for approval.
With a total investment of over VND330 trillion, the airport project will be executed in three phases.
During the first phase, slated to begin next year, one runway and one passenger terminal, along with other facilities will be constructed, with an annual capacity of 25 million passengers and 1.2 million tons of cargo. The first phase, costing more than VND110 trillion, is expected to be completed and put into service in 2025.
In the next phase, one more runway and one passenger terminal will be built to serve 50 million passengers and transport 1.5 million tons of commodities per year.
After the final phase is completed, the airport is expected to reach an annual capacity of 100 million passengers and five tons of cargo. SGT
Le Anh