For most of the year, Vu Tien Thanh spends his time bringing his bee boxes across the country looking for sources of nectar.
Honey to become the bee's knees
Nomadic life of beekeepers
Uncontrolled ecotourism threatens sanctuaries, national parks
Xuan Thuy National Park, a bird paradise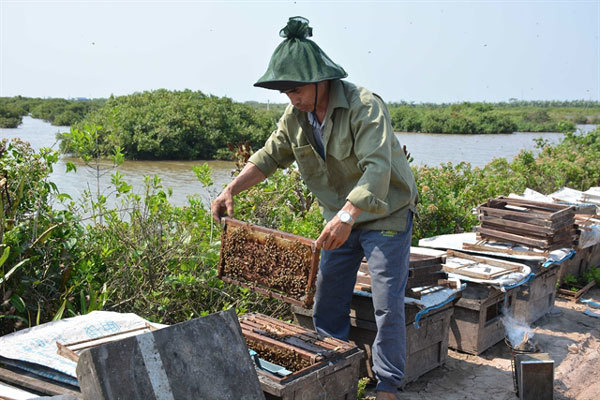 Vu Tien Thanh, a beekeper at Giao Thuy District in the northern province of Nam Dinh, is tending to his bee cages at the national park Xuan Thuy - a Ramsar wetland reserve. — VNA/VNS Photo Cong Luat
But from May to August, when summer arrives and the coastal mangrove forests that encircle the national park of Xuan Thuy bloom, Thanh tends to his hives in his hometown.
Dozens of other beekeepers are drawn to the site that offers "nectar of the sea" in Giao Thuy District, Nam Dinh Province.
Thanh brought his family's 400 bee cages all the way from the wild forests of the Central Highlands Province Dak Lak back home two weeks ago, a southern migration common among beekeepers to avoid the colder winter of northern Vietnam.
The bee cages are placed on an elevated dirt bank constructed in the national park's wetlands, which, according to Thanh, is the best location for the bees to make nests and forage for nectar and pollen.
Thanh said as vẹt (black mangrove) trees grow along the seashore free from pesticides and other chemicals that can kill bees, they are safe here while their honey is clean.
With his current 400 cages, he can obtain about 400kg of honey each harvest.
He doesn't have to look far for buyers for his products, as traders and agents come to his home to buy in large batches. By selling at VND60,000-80,000 per kilo of honey, he can earn VND20-30 million (US$852-1,300) a month during the mangrove flowering season.
"You can earn handsomely with beekeeping but not everyone can pursue this career path, since it requires so much persistence and hard work," Thanh said.
"It also takes quite some time for a beekeeper to learn the characters of the bees, to learn the flowering seasons of all types of crops and plants in different regions across the country to plan ahead to relocate the cages," Thanh said.
About 1km away from Thanh's beehives, Vu Van Giang, from Xuan Hoa Commune of Nam Dinh's Xuan Truong District, meticulously places each cube of sugar and syrup to feed to bees since the flowering season is not in full swing.
Beekeepers are wary of storms and scorching hot spells in the vẹt flowering season, which can lead to nectar scarcity, causing the hungry bees to become violent and invade other hives to get to the sugary substances, so they need to constantly check the hives to make sure they are sheltered.
Nguyen Van Cach, director of Xuan Thuy national park, said the unique mangrove environment here has led to a higher concentration of minerals in the honey compared to other types of honey from land-based plants.
"The honey business here is conducted under the supervision of the national park's management board, there's also strict quality control over the products."
Cach said the national park is working with local authorities to build the brand of Xuan Thuy mangrove honey so the products get more recognition, and eventually, bring better income for local beekeepers and reduce the risks of people engaging in other unsustainable livelihoods that could harm the fragile ecosystem here.
Currently, Xuan Thuy wetland reserve, the first to be declared a Ramsar site all of Southeast Asia, is home to 20 bee farms that generate 60-80 tonnes of honey a year.
VNS