The Ha Noi Transport and Services Corporation (Transerco) will open a new bus route linking the suburban district of Ha Dong to Noi Bai International Airport in June.
New bus route to Noi Bai Airport proposed
New bus route to Noi Bai Airport set to open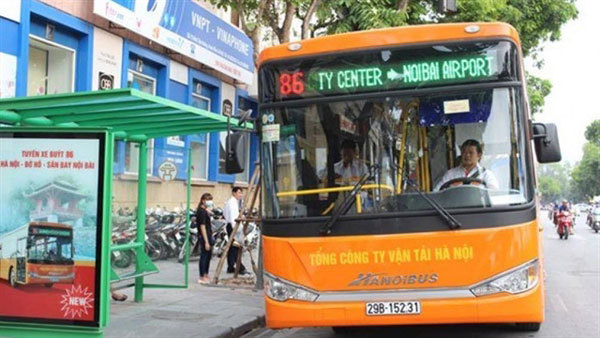 A bus connects Hanoi's city centre with Noi Bai International Airport. Photo baogiaothong.vn
The bus No 68 can accommodate 60 passengers and has free Wifi on board.
The buses will run every 30 minutes from the Me Ling Plaza Commercial Centre in Ha Dong District from 5am until 11pm.
A ticket will cost VND40,000 (US$1.73) per trip.
It takes 70 to 75 minutes to travel the entire 40.7km route.
Vu Van Vien, director of Ha Noi's Department of Transport, said the bus route would save travel time compared to subsidised public bus routes as there will be fewer stops.
He said he expected more passengers to switch to public buses from taxis and private vehicles to help ease traffic pressure on roads to the airport.
At present, there are five bus routes to Noi Bai Airport, including four subsidised ones: No 07 Cau Giay – Noi Bai, No 17 Long Bien – Noi Bai, No 90 Kim Ma – Noi Bai, No 109 My Dinh Bus station – Noi Bai and the high-quality bus route No 86 Ha Noi Railway Station – Hoan Kiem Lake – Noi Bai.
The No 86 bus route, which was launched in 2016, is Hanoi's first non-subsidised route connecting the city centre with Noi Bai Airport, costing VND30,000 ($1.30) per trip.
VNS