Thousands of fishing boats have been grounded due to new of the Ministry of Agriculture and Rural Development (MARD) regulations.
Vietnamese fishermen join hands to overcome EU yellow card
Modern steel fishing boats left abandoned due to costly operation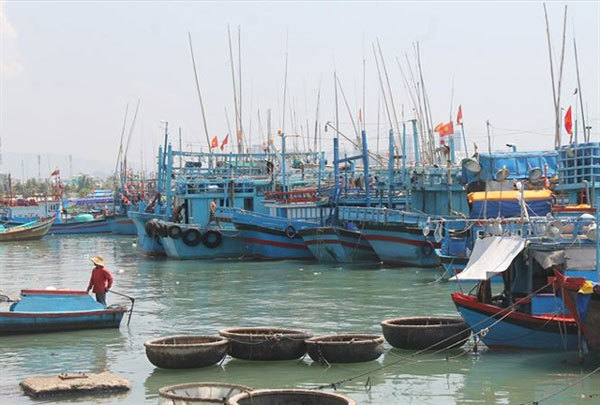 Hundreds of fishing boats at Hon Ro Fishing Port in Phuoc Dong Commune, Nha Trang City, can not sail due to new policy related to offshore fishing. — Photo tienphong.vn
According to Decision No 1481 of MARD, vessels less than 15 metres in length are not allowed to fish offshore, Tiền Phong (Vanguard) newspaper reported.
Furthermore, coastal provinces must also catch fish in accordance with licences issued by the central Government.
It means fishing boats that meet the requirements for offshore fishing standards but could not go fishing because they were not granted a licence.
The move is an effort in the protect resources and to comply with to international laws protecting certain species.
Under the new policy, Kien Giang has issued the most offshore fishing licences, 4,060 in total while the lowest is HCM City and Ninh Binh with 50 licences each.
Tran Ngoc Nhan, head of Fisheries Department in Phu Yen Province, said this locality has nearly 1,200 ships with capacity of more than 90CV, but only 451 ships are eligible to fish offshore because they are more than 15m in length.
This regulation, according to Nhan, is inadequate, creating difficulties for fishermen and need to be removed.
In Khanh Hoa Province, there are 1,366 fishing vessels with capacity of over 90CV.
Under the Decision No 1481, the province only could grant the licence for offshore fishing to 768 vessels and 598 vessels were not allowed to go to offshore areas, said Nguyen Trong Chanh, head of provincial Fisheries Department.
According to Chanh, many local fishermen want to upgrade their boats to meet requirements on offshore fishing but the quota is limited.
"We have reported the situation to the Department of Agriculture and Rural Development and the provincial People's Committee to propose MARD to reconsider the policy in order to create favorable conditions for fishermen," he said.
Hundreds of fishing boats less than 15m in length were waiting for comments from the Ministry of Agriculture and Rural Development about its new regulations, said Nguyen Trung Hieu, manager of Hon Ro Fishing Port in Nha Trang City.
These ships could be fined from VND500 to VND700 million (US$21,700-$30,400) if they go fishing offshore areas, Hieu said.
According to statistics of the fisheries department of the south central provinces, there are nearly 10,000 fishing boats with a length of over 15m with capacity of up to 90CV.
The first Law on Fisheries was adopted in 2003 and then was revised in 2017 and comes into force on January 1, 2019.
One of the highlights in the new Fisheries Law is the management of fingerlings or baby fish, according to Tran Dinh Luan, deputy director general of the Directorate of Fisheries under MARD.
The law states clearly that every five years, the ministry will survey fisheries and their living environment to come up with a workable plan on how to protect and exploit them efficiently and sustainably.
VNS