Luxembourg-funded project helps light up Hue city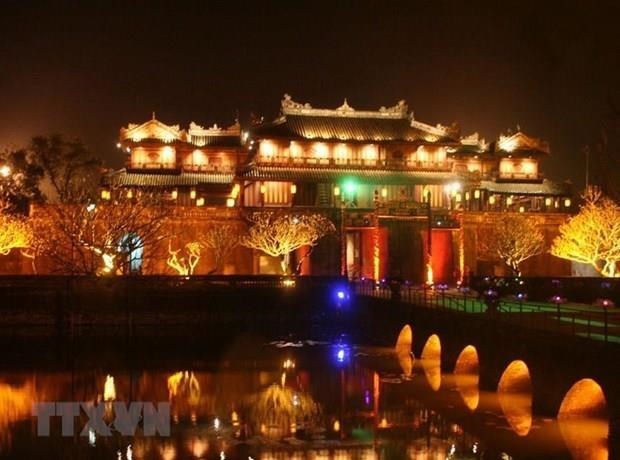 The Hue Imperial Citadel (Dai Noi) in the central province of Thua Thien – Hue
The central province of Thua Thien-Hue has implemented a sub-project to replace conventional lights with less energy consuming Light Emitting Diodes (LED) lights along streets in Hue city under the Energy Efficient Lighting NAMA Pilot project (VIE/401) funded by Luxemburg.
The move aims to contribute to implementing the national green growth programme and promoting efforts to cope with climate change and effectively use energy in Hue city.
The 2019-2020 project has a total investment of more than 500,000 EUR (over 552,000 USD) sourced from the non-refundable aid of the Luxembourg Climate and Energy Fund (CEF) under the Ministry of Sustainable Development & Infrastructure.
Chairman of the provincial People's Committee Phan Ngoc Tho said the project helped the locality replace old lights with LEDs on 21 streets in Hue city, including 19 streets in the northern bank of Huong River.
The project has installed 1,044 sets of 120W, 150W, 180W LEDs and related equipment; while destroying old lights which are no longer conformable to standards.
Through the installation of more than 22,000 LEDs in target areas, selected urban roads, as well as schools or kindergartens, the pilot project VIE/401 is estimated to achieve total cumulative emission reductions of around 11,700 tCO2 up to 2029, with associated energy savings of over 17 GWh.
In recent time, the municipal authority also installed about 4,000 new LEDs to increase lighting capacity and save energy. Thanks to these efforts, the province has successfully organised pedestrian routes along Chu Van An-Pham Ngu Lao-Vo Thi Sau streets in Hue city.
At presents, about 5,000 lights in Hue city need to be replaced to increase lighting in park areas, along the banks of Huong River and new residential areas.
Exhibition on Hoang Sa, Truong Sa opens in HCM City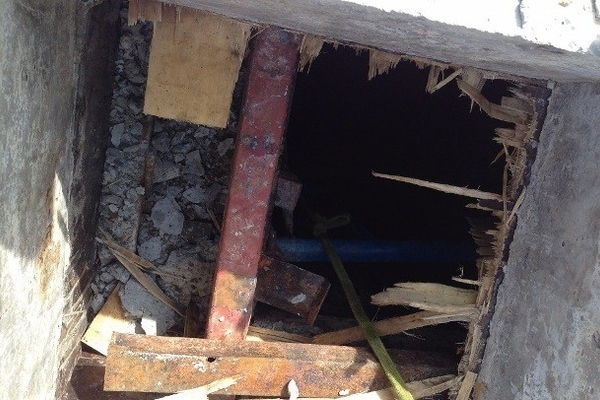 Students at the University of Social Sciences and Humanities Ho Chi Minh City look at documents at the exhibition
An exhibition titled "Hoang Sa, Truong Sa of Vietnam: Historical and legal evidence" kicked off at the University of Social Sciences and Humanities Ho Chi Minh City on September 11.
The exhibition, co-organised by the Ministry of Information and Communications and the Vietnam National University – HCM City, features evidence affirming that Hoang Sa (Paracel) and Truong Sa (Spratly) archipelagos belong to Vietnam.
On show are documents, maps, images and items which were published by Vietnamese and international scholars, asserting Vietnam's sovereignty over Hoang Sa and Truong Sa archipelagos.
Hoang Minh Phuong, an official from the ministry, said Vietnam's sea and islands are an inseparable part of the country, adding the exhibition is part of activities to raise awareness and responsibility of students and staff of the university in national construction and defence.
He also highlighted that communication campaigns on sea and islands over the time have greatly contributed to the country's sovereignty on the East Sea, especially over the two archipelagos.
The exhibition will run until September 13.
Hospital Management Asia conference draws over 2,500 participants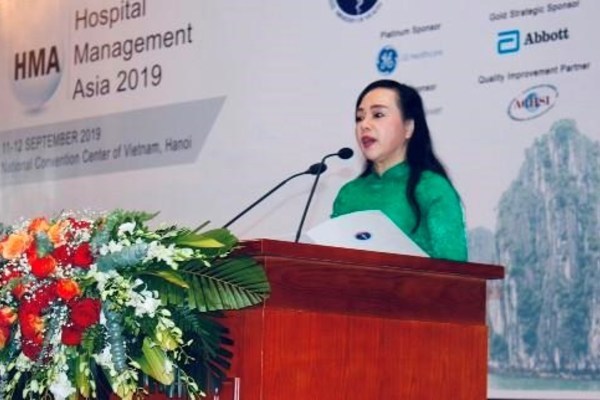 Vietnamese Minister of Health Nguyen Thi Kim Tien addresses the 18th Hospital Management Asia conference that opened in Hanoi on September 11 (Photo: moh.gov.vn)
The 18th Hospital Management Asia conference opened in Hanoi on September 11 with the participation of over 2,500 delegates from 28 countries.
The annual event, the fourth of its kind hosted by Vietnam so far, aims to help hospital owners and directors, doctors and health officials in Asia to gain an insight into healthcare management thinking and the best practices and solutions from around the world.
They will discuss evolving business models, advanced technologies and improvements in management and healthcare systems so as to cut down costs and improve patient outcomes. Achievements by hospitals across Asia will also be honoured at the two-day conference.
In her speech, Vietnamese Minister of Health Nguyen Thi Kim Tien said in recent years, her ministry has carried out a reform programme for the health sector with a view to promoting universal healthcare, in which the quality of medical services are of critical importance.
She highlighted that the health insurance coverage in the country has reached 89 percent thanks to the State's assistance for poor and near-poor people to buy the insurance. Additionally, the scope of health insurance benefits in Vietnam is rather wide compared to the premiums participants have to pay as it covers medicine, treatment costs of some serious illnesses, as well as organ transplant costs.
At the conference, a memorandum of understanding on healthcare cooperation was signed between three hospitals of Vietnam (Hung Vuong General Hospital, Quang Khoi General Hospital, and Otorhinolaryngology Hospital of the Central Region) and three healthcare establishments of Malaysia (Mahkota Medical Centre, Subang Jaya Medical Centre, and Sunway Medical Centre).
The Asian Hospital Management Awards were also presented to honour the Asian-Pacific hospitals with the best practices.
Phu Tho province responds to "no plastic waste" campaign
Many agencies, units and businesses across the northern province of Phu Tho have been taking specific actions in response to the "no plastic waste" campaign.
Instead of using nylon bags to pack agricultural products as previously, farmers at the Thu Xa safe vegetable cooperative in Lam Thao district are now using banana leaves, which are easily available in rural areas, to wrap many kinds of vegetables and tubers.
Director of the cooperative Nguyen Van Nghia said using banana leaves will increase the cost and time to wrap products, but it brings long-term benefits for the living environment.
Actively responding to the movement, units under the provincial People's Committee Office have taken the lead in ending the use of disposable plastic products at meetings, conferences, seminars and other activities. Instead, environmentally-friendly products are used.
Youth unions at all levels have also implemented a number of practical activities such as collecting, sorting and treating plastic waste, and cleaning the environment at historical relic sites, cemeteries, and monuments of fallen soldiers. They also conduct educational activities to raise public awareness, especially among youngsters, about the harmful effects of plastic waste and the importance of environmental protection, thus engaging the public in limiting the use of nylon bags and single-use plastic products.
As a result, in over a month, the local youth unions disseminated information about the harmful impacts of plastic waste to over 2,000 people; collected more than 28.5 tonnes of waste; and cleaned up over 10km of canals and 105km of rural roads.
Youth unions also held activities to make toys and decorations at schools from plastic waste.
The provincial education and training sector has directed its departments and schools to encourage teachers and students to actively participate in the fight against plastic waste.
Education facilities take practical actions to limit the use of nylon bags and single-use plastic products. Plastic bottled drinks and cups will not be used in meetings, conferences and seminars.
To spread the movement, the Standing Committee of the provincial Party Committee has just issued Directive No.20-CT/TU on further strengthening the leadership and direction of the implementation of the movement.
The document requires all agencies, units and localities across the province to implement the commitment of preventing plastic waste, towards ending completely the use of disposable plastic material.
Departments and agencies must immediately reduce the use of single-use plastic products like bottled water, straws and disposable cups during their activities, while selecting environmentally-friendly products. Party committees and Party members are required to lead the movement.

The province will support the development of environmentally-friendly products and attract investment in recycling single-use plastics and persistent nylon bags using advanced technologies.
Vietnam is one of the five countries discharging the most plastic waste into the ocean, according to international organisations.
Although there are no official statistics on the amount and varieties of plastic in the Vietnamese sea and islands, plastic waste is easy to see in Vietnamese waters, with the country's 112 estuaries the main gateways of plastic to the ocean.
The Vietnam Ministry of Natural Resources and Environment (MONRE) estimated that about 80 tonnes of plastic waste and bags are thrown away every day in Hanoi and Ho Chi Minh City combined.
On the positive side, Vietnam has taken efforts to manage imported plastic scrap and monitor plastic production and consumption.
In 2018, Vietnam proposed Partnerships in Environmental Management for the Seas of East Asia and launched initiatives to foster global co-operation in plastic waste reduction.
The MONRE aims to reduce 65 percent of non-biodegradable plastic bags used at supermarkets and shopping malls by 2020 compare to 2010. By 2026, Vietnam targets zero non-biodegradable plastic bags.
Workshop seeks to preserve cultural heritages during development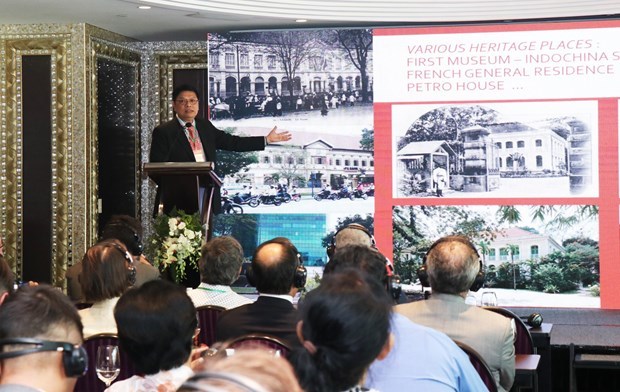 At the workshop "Heritage Preservation & Economic Development"
A workshop titled "Heritage Preservation & Economic Development" was held by the Consulate General of Italy in Ho Chi Minh City and the Italian Chamber of Commerce in Vietnam (ICHAM) on September 11 in the framework of the Italian Design Day 2019.
According to Standing Vice Chairman of the municipal People's Committee Le Thanh Liem, Ho Chi Minh City has a wide range of cultural heritages and is looking to outline a rational master plan to protect their value during local socio-economic development.
He spoke highly of the workshop, saying it offered opportunities for experts and businesses to exchange experience and discuss measures to raise public awareness of the potential of cultural heritage preservation. Besides, it is expected to help companies operating in tourism, real estate and culture to seek long-term cooperation in the city.
Italian General Consul Dante Brandi, for his part, laid stress on the significance of heritage preservation during the economic development process, especially as Ho Chi Minh City is targeting to become a smart urban area in 2025.
Together with the city's interest and local firms' creativeness, the heritage preservation will become a motive to boost tourism and economic development in the locality, he added.
Sharing experience in promoting values of Hoi An ancient town, a UNESCO World Heritage Site, PhD Vu Ngoc Hoang, former Secretary of Quang Nam province's Party Committee, underlined the importance to change community awareness, and emphasized the need for support from local authorities and people to preserve the heritage site.
Meanwhile, head of the UNESCO of Office in Vietnam Michael Croft said preservation of cultural heritages must be made in tandem with the building of smart urban areas.
The UNESCO stands ready to cooperate with Vietnam and Ho Chi Minh City in particular in the field, he added.
Vietnam's cancer treatment approaches world standard
A modern equipment for cancer treatment
Technology and equipment for cancer treatment in Vietnam are becoming more and more modernized, approaching the progress of the world medicine, heard a conference on advances in cancer diagnosis and treatment in Ho Chi Minh City on September 11.
According to Deputy Director of the National Radiotherapy Center, head of Chest Radiology, National Cancer Hospital (K Hospital) Nguyen Cong Hoang, among the three main pillars of cancer treatment - radiotherapy, surgery and medicine, the radiotherapy plays an important role because 60-70 percent of cancer patients are required to have radiation therapy.
Vietnam's leading cancer treatment facilities are constantly armed with modern equipment, and applying new techniques to further improve the effectiveness of radiotherapy.
Notably, the K Hospital is using the Gamma Knife Icon radiosurgery system – the most modern radiotherapy machine generation in the world for radiotherapy. With this device, people with cancer in Vietnam have an additional modern treatment method for multimodal treatment of brain tumors without having to go overseas.
Sharing Hoang's view, Doctor Pham Van Binh from the robotic endoscopic surgery centre of the K Hospital said advances in cancer surgical surgery, especially cancer surgery by robots, have become routine in Vietnam.
These helps surgeons work more and more effectively, reduce pain and recovery time, and improve the quality of life of patients after surgeries.
According to statistics by the World Health Organization, in 2018, the proportion of Vietnamese people with cancer was 151.4 /100,000 people, ranking 99 out of 185 countries and territories, 19th in Asia and 15th in Southeast Asia.
The number of new cancer cases in Vietnam has been constantly increasing, counting up to nearly 165,000 in 2018.
Conference promotes engagement in hydropower planning in Mekong basin
Drought in the Mekong Delta region
Environmental experts gathered at a conference held in Hanoi on September 11, discussing the important roles of stakeholders in outlining hydropower master plan and protecting water resources in the Mekong River basin.
The event was organised by the Centre for Sustainable Development of Water Resources And Climate Change Adaptation in collaboration with the Centre for Water Resources Conservation and Development and the Vietnam Rivers Network.
Discussions at the conference highlighted water exhaustion and pollution in the Mekong Delta region and their impact on local socio-economic development, as well as potential to branch out small- and medium-sized hydropower plants in northern Lao Cai province's Sa Pa district and its side effects on the local environment and tourism.
According to Vietnam Rivers Network's Head Coordinator Dao Trong Tu, the conference aimed to promote the important roles of stakeholders, particularly social organisations in Vietnam, in consulting the development of hydropower in the Mekong River basin and protecting Vietnam's interests amid the mushrooming construction of hydropower works in the upstream area.
Ky Quang Vinh, a member of the Vietnam Union of Science and Technology Associations' chapter in Can Tho city, said the construction has worsened drought and saline intrusion in the Mekong Delta for years, leaving critical damage to local production and people's health.
Meanwhile, representatives from Can Tho and Tra Vinh, as well as experts in water resources exchanged experience in enhancing the roles of relevant sides in hydropower development in the Mekong Delta.
Colourful culture of Gia Lai comes to Hanoi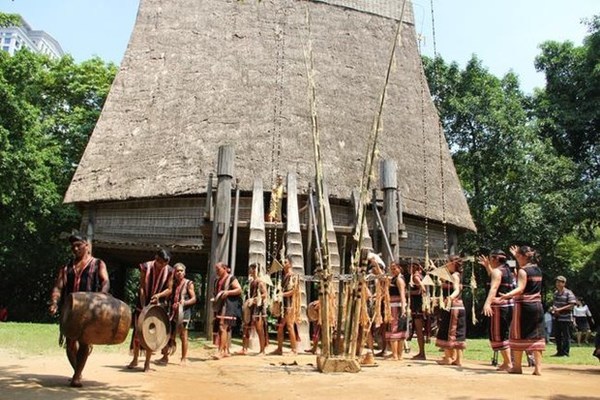 A gong performance of ethnic people from Gia Lai province (Photo: baodansinh.vn)
A special programme featuring the culture of the Central Highland province of Gia Lai has been organised at the Vietnam Museum of Ethnology, aiming to introduce and promote the provincial culture to both domestic and foreign friends.
Artisans from Gia Lai province introduced to visitors its cultural characteristics through several art activities including Gong performance, folk singing, and dancing, brocade weaving, among others.
Besides, visitors also had a chance to experience Gia Lai's culture space through famous produces.
Nguyen Duc Hoang, Deputy Chairman of Gia Lai province's Department of Culture, Sports and Tourism, the Vietnam Museum of Ethnology has two special areas, including commune house of Bana ethnic group, and sepulcher of the Gia Lai people, along with other activities such as new rice festival of J'Rai people and new communal house of Bana people.
On the occasion, young visitors also had a chance to make folk toys of the Mid-Autumn festival such as star-shaped lanterns.
Amendments suggested to revised Labour Code draft
A conference took place in Hanoi on September 11 to collect social opinions on the revised Labour Code draft from the angle of gender equality.
Based on the fact that female employees are having lower incomes compared to their male peers of the same profession, educational level, and geographical location, participants recommended the draft include a regulation on setting up a legal framework for gender equality to handle the gap.
Dang Nhu Loi, former deputy head of the National Assembly Committee for Social Affairs, said when difficulties arise, employers from the private sector, particularly foreign-invested firms, tend to end labour contracts or fire workers rather than working on reusing the workers for other occupations and improving working environment.
It causes harmful impact on employees and a burden for both the Government and society, he added, noting that the draft, however, does not regulate such issue.
Some delegates pointed to the current regulation that forbids employers from using seven-month pregnant workers (or six-month ones in mountainous, remote, or island areas) for night shifts, extra working hours, or business trips to faraway places.
They were against a change made to the regulation by drafters of the revised code which states that employers cannot do such things mentioned above without acceptance from the workers.
Delegates said employers can take advantage of the flexible content or persuade the pregnant women to accept the job that can inflict negative consequences on their health.
Tran Thi Huong, a worker at the Ha Long Canned Food Joint Stock Corporation, said the draft regulation on increasing retirement ages for both sexes ought to be specific for each sector.
The newly proposed regulation on cutting working hours from 48 to 44 hours per week also faced disagreement from many enterprises who argued that 48 hours a week is a standard in Vietnam's competitors in terms of labour sources like Thailand and India. They said the reduction is likely to weaker the country's competitiveness and pose risks of bankruptcy to businesses.
National conference on sustainable development held
An overview of the conference
The National Conference on Sustainable Development 2019 took place in Hanoi on September 12 under theme "For a Decade of More Sustainable Development", gathering leaders of the Government, ministries, sectors, localities, associations, and businesses.
The event aimed to seek practical and effective measures to develop the human capital, build a non-emission economy, and promote the model of sustainable economy to help enhance the competitiveness of the private sector.
The solutions are expected to contribute to the building of the socio-economic development strategy for the 2021-2030 period with new vision and policies to bring the country to a decade with more sustainable development.
Within the conference, participants discussed topics related to the development of circular economy in the next decade and the inter-sectoral growth model and the transformation in the principle of using materials; the public-private partnership (PPP); and human capital.
Representing the Vietnam Business Council for Sustainable Development (VBCSD) under the Vietnam Chamber of Commerce and Industry (VCCI), VCCI President Vu TienLoc said that in order to attract more resources from the private sector to socio-economic development and completing the Sustainable Development Goals (SDGs), it is necessary to promote the expansion of the public-private partnership.
He stressed the need to issue a PPP Investment Law to reform the PPP model, adding that State management agencies should change their management methods and improve their capacity to give more favourable conditions for investment activities in the PPP form, thus luring new investment.
Daniel Dulitzky, WB Director for Human Resource Development in the East Asia-Pacific Region, said that Vietnam is showing good performance in human capital index,but the country is facing challenges in ensuring the high quality human resources, and held that in order to overcome the challenges, Vietnam should shorten the distance among ethnic groups and strengthen the development of the workforce.
The WB representative also gave a number of recommendations for Vietnam in fulfilling SDGs, including the reform of national target programmes, the renovation of the tertiary education system, the attracting of more investment and engagement of the private sector to education-training, thus creating closer connection between training facilities and businesses.
The National Conference on Sustainable Development 2019 was held by the National Council for Sustainable Development and Competitiveness Improvement in coordination with the VCCI and the World Bank.
Workshop spotlights VN-Europe technology-knowledge transfer
A workshop was held at Hanoi University of Science and Technology (HUST) on September 11 to discuss the transfer of knowledge and technologies from Europe to Vietnam.
The event was part of the Vietnamese-European Knowledge and Technology Transfer Education Consortium (VETEC), a project funded by the European Union (EU)'s Erasmus programme.
It brought together experts, businessmen, as well as delegates from the Ministry of Science and Technology, the Delegation of the EU to Vietnam, and a number of Vietnamese and European universities.
Participants focused their discussion on relevant Government policies, innovation-startup models in Vietnam, the link between businesses and academic establishments in technology transfer, as well as changes and challenges related to innovation movements within schools and enterprises.
The VETEC project aims to create a network of technological – knowledge transfer development between Europe and Vietnam, involving HUST, Hue University and Can Tho University of Vietnam, Belgium's Vrije Universiteit Brussel, Germany's Dresden University of Technology, Portugal's University of Aveiro, and seven other supportive members, including the Belgian embassy in Vietnam.
Lasting from 2016 to 2019, the project is worth over 770,000 EUR (nearly 871,400 USD), including over 700,000 EUR funded by the EU.
Anti-plastic waste alliance to focus on Southeast Asia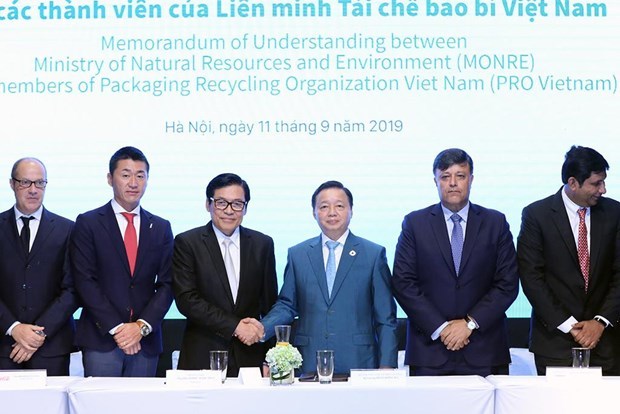 At the signing ceremony (Photo: baotainguyenmoitruong.vn)
The Ministry of Natural Resources and Environment (MONRE) and the Packaging Recycling Organisation Vietnam (Pro Vietnam) inked a deal in Hanoi on September 11 on joint efforts to reduce plastic waste.
Under the deal, the sides will work together to support activities for waste reduction and sorting at sources, as well as to boost the capacity and effectiveness of the system for collecting, transporting and recycling waste.
They aim to enhance responsibilities of producers, brand owners, distributors, retailers both modern and traditional, and exporters in their management of after-consumption waste and recycling work.
The cooperation also targets forming a recycling industry, assisting products made from recycled materials, and raising public awareness on the matter.
Speaking at the signing ceremony, Minister of Natural Resources and Environment Tran Hong Ha lauded Pro Vietnam's proactive approach in sharing responsibilities to deal with the waste issue, particularly plastic waste in the packaging industry.
Enterprises contribute to such problem but they can also be part of the solution, he stated.
Chairman of Pro Vietnam Pham Phu Ngoc Trai said the organisation aims to collect all packaging used by its members in the market by 2030.
It will build a system to collect these packaging materials based on cooperation with local-level authorities and relevant sides within the sector, he added.
Vietnam is one of the five countries throwing the most plastic waste into oceans, according to international organisations.
The MONRE estimated that about 80 tonnes of plastic waste and bags are thrown away every day in Hanoi and Ho Chi Minh City combined.
On June 21, Pro Vietnam was established with the participation of nine major companies such as TH Group, Cola Cola, La Vie, Nestle and Nutifood. Between now and later this year, 30 others will join its plastic waste recycling scheme.
Party chief, President shares children's joy on Mid-Autumn Festival
The Mid-Autumn Festival is traditionally celebrated on the 15th day of the 8th month on the lunar calendar, which falls on September 13 this year.
Party General Secretary and President Nguyen Phu Trong has sent a letter to all children in Vietnam and Vietnamese children overseas, sharing the joy with them on the traditional Mid-Autumn Festival.
Sending his affection and best wishes to the children, the Party and State leader said he is happy to see the children study hard and actively join in social activities, with many of them winning prizes at international and national competitions, thus bringing fame to the country and fostering hope and trust in young generations who are future owners of the country.
"This year, Vietnam and other countries in the world mark the 30 years of the UN Convention on the Right of the Child, and the Party, State, schools, families and society have always cared for and created the best conditions for children to grow up in a safe and healthy environment, as well as have all their rights ensured," the Party leader and President wrote in the letter.
He expressed his wish that the children continue to follow the five teachings of President Ho Chi Minh, respect grandparents and parents and teachers, help those in disadvantaged circumstances and study well in order to contribute to building the country when growing up.
The leader also wished all children a joyful and meaningful Mid-Autumn festival.
The Mid-Autumn Festival, traditionally celebrated on the 15th day of the 8th month on the lunar calendar, which falls on September 13 this year, is also called a children's festival in Vietnam. Many activities are held for children on this day, including gatherings to decorate fruit trays, lantern parades, lion dances, and gift giving.
More communes become new-style rural areas
As many as 604 out of total 1,424 communes, or 42.4 percent, in the south central coastal and Central Highlands regions have been recognised as new-style rural areas, according to the Central Coordination Office on New Rural Development.
The south central coastal region counted eight districts gaining the status, while the Central Highlands had one.
The two regions strive to have 126 communes meeting advanced criteria for new-style rural areas by the end of 2020.
Currently, 27 districts in the nine south central coastal provinces of Quang Nam, Quang Ngai, Phu Yen, Khanh Hoa, Ninh Thuan, Dak Lak, Dak Nong, Gia Lai and Kon Tum have not had any communes fulfilling new rural areas criteria.
Meanwhile, in the Central Highlands, the rate of new rural communes in Dak Lak and Dak Nong is below 30 percent; and Kon Tum under 20 percent.
The progress of developing rural areas in Ninh Thuan, Binh Thuan, Khanh Hoa, Quang Ngai, Kon Tum, and Dak Lak provinces has been sluggish.
These localities should use their natural resources to support the building of new-style rural areas, according to the central coordination office.