Hanoi's government has spent more than VND7.2 billion, or 0.49% of the local budget allocation for information technology, on software services provided by Nhat Cuong Trading and Services Co., Ltd, for the past three years.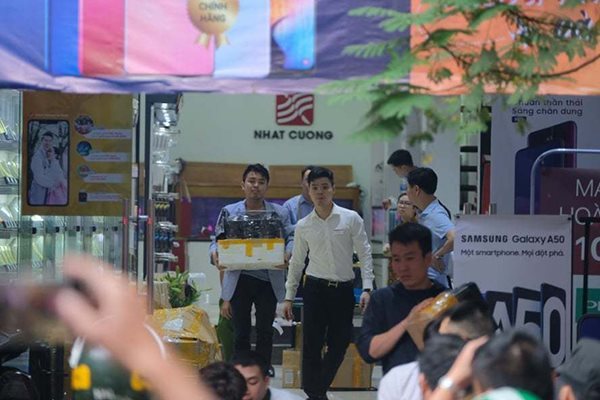 Investigators searched a retail store owned by Nhat Cuong Mobile earlier this month – PHOTO: VIETNAMNET
The company, known as Nhat Cuong Mobile, was earlier charged with trading in smuggled mobile phones and other electronic devices. Its general director, Bui Quang Huy, is wanted by the Hanoi City police.
Nguyen Ngoc Ky, director of the municipal Department of Information and Communications, said at a meeting on Thursday that the company has also been in charge of seven purchase packages worth a combined VND12.34 billion (US$526 million), accounting for 0.84% of Hanoi's IT budget.
He added that the local government has asked the relevant agencies to increase the number of public services available and ensure the normal operations of the software systems offered by Nhat Cuong Mobile.
According to the official, Nhat Cuong Mobile is one of 63 units providing a total of 135 software services for the Hanoi People's Committee and its departments and agencies.
Earlier this month, the Hanoi police searched nine retail stores owned by Nhat Cuong Mobile, seizing papers and thousands of mobile phones, iPads and their electronic accessories.
The company's general director and his accomplices were initially found to have organized a transnational smuggling ring, maintaining two sets of accounting books to conceal trillions of Vietnamese dong in revenue.
Founded in Hanoi in 2001 as a phone repair shop, Nhat Cuong Mobile now has nine retail stores and a warranty center in the city as well as an enterprise resource planning center in HCMC. SGT
Van Ly

The software system for Hanoi's online public services is still operational after Nhat Cuong Trading and Services Co., Ltd was charged with trading in smuggled mobile phones and other electronic devices, said a Hanoi official.  

The Ministry of Public Security have issued a nationwide wanted notice against the director-general of Nhat Cuong Technic Co Ltd, the parent company of a popular well-known smartphone chain store in Hanoi.  

A string of local mobile phone stores have removed parallel smartphones from their websites as soon as Nhat Cuong Mobile's head was arrested for smuggling.