While online education is common around the world, it is unpopular in Vietnam. Online training is provided by some universities, but it is absent in general education.
A report from Cyber Universities in 2018 showed that 80 percent of universities in the US used online training. The figure was 90 percent in Singapore.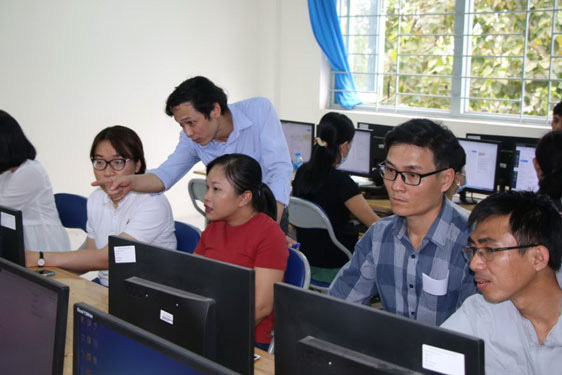 In Vietnam, online education has only been used by schools since the Covid-19 epidemic broke out and students have stayef off school.

A high school teacher in Hanoi said in order to study online, students need to have computers or electronic devices with internet connection. This could be the reason for students and parents to hesitate to access online education.

Traditional education with interactions between teachers and students, familiar for many years is believed to be the most effective education method.
Traditional education with interactions between teachers and students, familiar for many years is believed to be the most effective education method.

"What if my son cannot solve a problem and he wants help," said Le Hoa, a parent in district 5, HCM City.

"Interaction between teachers and students plays a very important role in teaching. The role of teachers cannot be replaced by machines or software," she commented.

Meanwhile, Nguyen Trung Hieu, an office worker in Hanoi, said online education is not suitable to all students.

"Online education is very useful for students with self-discipline. My son finds it very difficult to concentrate," he explained.

The great advantages of online lessons are that students can learn at any time they want and that the same lessons can be repeated many times. Meanwhile, the advantages are insignificant to the general school students like his son.

Though Hieu has a master's degree and has opportunities to access modern teaching methods, he still thinks that online lessons would be more useful for university rather than general school students.

Ly Khang, an 11th grader in HCM City, said he had never learned online until the teacher told him to do.

"I have been instructed to study online for a few days but I have not got used to it. The lessons are messy and duplicated, and there are so many teachers that I don't know who to choose. And the forms of lessons are quite different, which confuse me," Khang said.

Khang and his classmates have been provided accounts to log in to online learning software without any instructions.

Some educators said Covid-19 is an opportunity for Vietnam to promote online education. However, they admitted that the teaching method was not favored by Vietnamese students who don't have the habit of self-study and research.

Dr of Psychology Dang Le Hoa An commented that online education is only considered an alternative teaching method in the Covid-19 epidemic. Teachers and students are not prepared for it. 
Linh Ha
The Ministry of Education and Training (MOET) has adjusted the academic year schedule, delaying the high school finals to late July.

HCM City on Tuesday launched a trial model of an operation centre each for smart health and education as part of its project to turn into a smart city.