D.Map, a new online map that provides information on accessible venues for people with disabilities, was launched in Hanoi last week on the occasion of Vietnam Disabled People's Day (April 18).
 Finger reader for the blind wins EduHackathon 2017
Vietnamese student's reading machine to bring joy to the blind
First Vietnamese sight-impaired MC inspires passion for life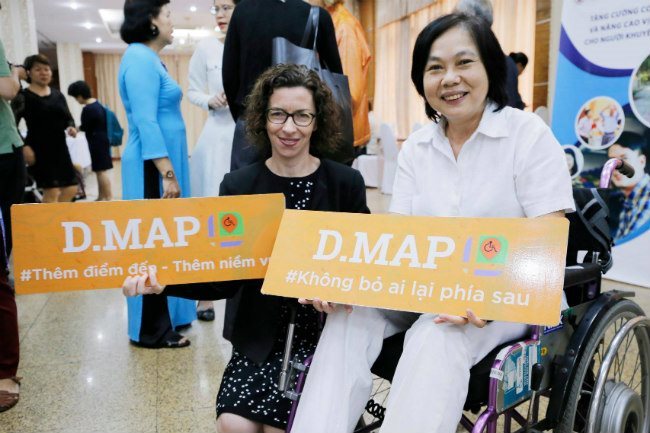 Mia Urbano (L), senior gender equality and social development adviser at the Australian Department of Foreign Affairs and Trade, and Dr. Vo Thi Hoang Yen, who initiated D.Map, pose for a photo at the launching event in Hanoi - PHOTO: COURTESY OF AUSTRALIAN ALUMNI IN VIETNAM
This project is initiated by Dr. Vo Thi Hoang Yen, one of two Australia Awards alumni with disabilities on Forbes' list of 50 most influential women in 2019, according to the Australian Embassy.
Now available on IOS and Android, the app provides a solution for people with disabilities to help them find usable and accessible places such as parks, public toilets, offices, hospitals, and shopping malls.
Besides the launch of D.Map, the Disability Research and Capacity Development Center, the Vietnam Federation of People with Disabilities, and the Action to the Community Development Center announced the "Go with D.Map" contest. The person who updates the most locations that are accessible for people with disabilities on the app before November 15 will win a trip to Singapore.
D.Map is one of many projects that have been funded or partially funded by the Australian Alumni Grant Fund. Through the fund, the Australian Government has provided AUD120,000 for projects of alumni who apply the knowledge and skills they learned in Australia to support the community of people with disabilities. In addition, Australia has granted scholarships to 49 people with disabilities in Vietnam to attend courses in Australia and Vietnam. SGT