More than 50,000 new tuberculosis (TB) patients have been discovered nationwide in the first six months of 2019.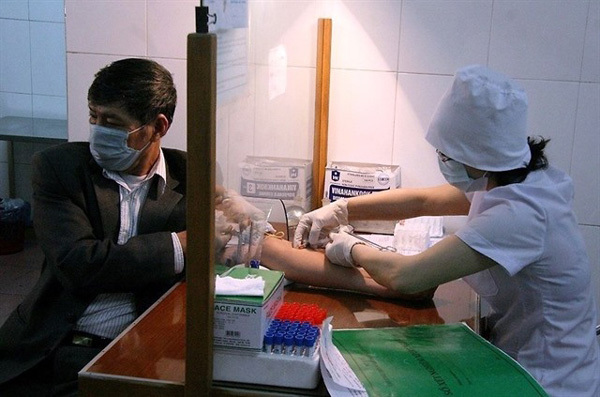 A patient takes a tuberculosis test at the Hai Phong Tuberculosis and Lung Diseases Hospital. — Photo baohaiphong.vn
The health sector say that's a detection rate of 52/100,000, but more than 90 per cent of new and relapsed TB patients have been successfully treated.
The figure is a slight increase from the same period last year, according to the latest figures released by the National Tuberculosis (TB) Prevention Programme.
Programme director Prof. Nguyen Viet Nhung said that they will continue to achieve the objective of implementing tuberculosis prevention in 100 per cent of districts, communes and wards nationwide.
"The percentage of the population covered by the programme has reached 100 per cent," said Nhung.
"The tuberculosis network continues to be expanded and strengthened throughout the country. Currently 48/63 provinces and cities have established lung, tuberculosis and lung hospitals.
"The treatment rate of TB patients with new and relapsed bacteriological evidence was maintained at a high level, 87.1 per cent, meeting the targets set by the World Health Organisation (WHO).
"Some provinces have high cure rates such as Hanoi (94.6 per cent), Quang Ngai (94.9 per cent) and Hau Giang (97.6 per cent). However, the achieved rate nationwide is still below the National Tuberculosis Prevention Programme's goal of more than 90 per cent," said Nhung.
Nhung said that country has faced many challenges in TB control and prevention, such as the insufficient supply of biological products for testing and drugs and the coordination in public-private health activities remained ineffective, especially the detecting TB among children and prisoners.
"In the future, the programme will continue to carry out activities such as proactive detection of multi-drug resistant tuberculosis, latent TB, pediatric TB, TB/HIV to achieve treatment goals in efforts to reach the goal of successfully cure at least 90 per cent of new and relapsed TB patients," said Nhung.
In addition, Nhung added, the programme will promote active interventions, new initiatives, the application of new technologies and techniques in tuberculosis diagnostic testing, and the application of accurate medicine in diagnosis and treatment.
According to a report from the World Health Organisation (WHO), Vietnam is still a country with a high burden of tuberculosis, ranked 16th among 30 countries with the highest number of TB patients globally and ranked 13th among 30 countries with the highest MDR-TB burden in the world.
VNS