Phung Quan of District 2 jogs for five kilometres each day on the grounds of the apartment building where he lives.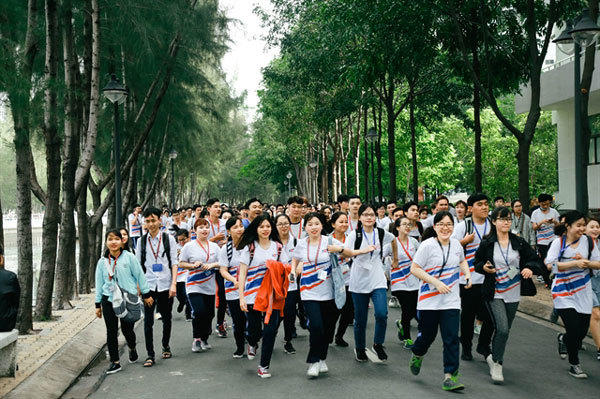 UpRace Community 2018 raised more than VND4 billion in donations for the Newborns Vietnam Fund. — Photo courtesy of VNG
"I want to burn calories and be healthy," Quan said, adding that he also is taking part in the UpRace community run 2019 to raise funds for Vietseeds, which provides scholarships to poor students with good academic results.
Vietseeds is one of three beneficiary organisations of UpRace.
Rather than racing in person, runners record their runs with a mobile application from UpRace that technology company VNG launched last month.
The app measures the cumulative distance, with each validated kilometre fetching donations of at least VND1,000 from sponsoring companies and three social organisations partnering with VNG.
It also allows participants to choose which social organisation should be the beneficiary of their running achievement.
UpRace started on August 29 and will end on September 23. There are three kinds of teams arranged in three leagues which are corporates, sport clubs and universities-colleges.
Teams in the same league will complete and be ranked based on the total running distance of each team.
Runners are recorded as completing the race when the number of eligible runners finishes.
Running days are at least 12 days completing at least 60 kilometres of running distance.
To encourage the participants, UpRace 2019 also has a Double Day on Sundays during the event. All running achievements recorded on these days will be multiplied by two.
In the UpRace 2019, Quan used the Strava app to record his running achievements and then connected with the UpRace app instead of its website which was done last year. Because he participated in 2018, he can log on to existing accounts.
He also has called on his friends, colleagues and students at the HCM City University of Science, where he works, to set up a team in UpRace.
As of yesterday, Quan's team was one of the top three teams with the highest number of kilometres.
In 2018 when UpRace was introduced, it attracted more than 14,000 participants, completing a total of more than 1.3 million of kilometres and thus contributing more than VND4 billion (US$172,403) to Newborns Vietnam Fund.
Suzanna Lubran, director of Newborns Vietnam Fund, said: "UPRACE has touched the imagination and the hearts of thousands of people. It inspires us to join hands and run together, to improve the world we live in, to raise awareness and funds for the important issues of our time."
Le Hong Minh, CEO of the VNG, said: "As a runner, I understand the importance of programmes which could bring enthusiasm and joy in jogging and running of each individual. These programmes make running become an indispensable part in life."
Charity runs and walks
Besides UpRace, many other running races have been organised to raise funds for many charity programmes such as educating children with autism, heart surgeries for children with financial difficulties, environmental protection races, and others.
As of last year, the Run for the Heart has been organised for five years, raising nearly VND18 billion ($775,763) for heart surgeries for 710 children with heart diseases and financial difficulties throughout the country.
Saigon Children's Charity (Saigonchildren), in partnership with CapitaLand Vietnam, also held The Steps Challenge 2019 to raise funds for people with autism. The event aimed for 10 million steps to unlock a donation of US$25,000 from CapitaLand Hope Foundation (CHF). This was used for the Special Needs Education Programme of Saigon Children's Charity to directly support the autism community across Vietnam.
Le Duy Manh of District 1, who has taken part in the UpRace for two years and other community runs, said: "Every kilometre which I run can fetch an amount of money for a certain community activity. That is motivation for me to take part in races:"
Do Thi Thuy of Tan Phu District, who is a member of VietRunners, a club of people who love running and want to develop running in the country, said: "Races which I take part in motivate my 11-year-old daughter to want to run in races along with me."
Mai Thuan Thao of District 12, who also is a member of VietRunners, said that races helped encourage more people to run.
"When the country has a large number of people running, the mindset of Vietnam being too lazy to do physical exercise will change," Thao said.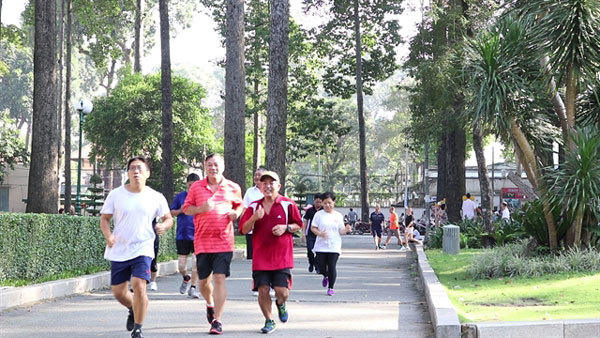 When the country has a large number of people running, the mindset of Vietnam being too lazy to do physical exercise will change. — VNS Photo Viet Dung
 
Manh said: "After running, I feel my health is better. It helps build strong bones and strengthen muscles, and helps to lose weight."
His friends who suffer from diabetes have stable blood glucose levels thanks to running, he added.
Thao said: "This is a sport that can be done easily. Being in my 40s, I still can run five or ten kilometres. When I get stress, I spend one hour on running. At that time, I focus on my steps, breathing and sweating. I often feel more comfortable after running."
Gia Loc
VNS