Pham Thi Hien got married in 2018 when she was 16 years old to a man a year her senior.
Child marriage remains common in Son La
Measuring the social costs of teen brides and grooms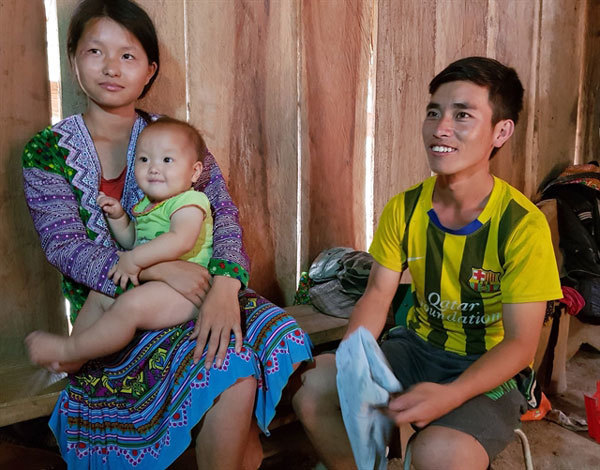 A couple who got married at the early age in Muong Lat District, Thanh Hoa Province. VNA/VNS Photo Nguyen Nam
The Muong ethnic minority couple, residing in a mountainous area in central Thanh Hoa Province, were too young to be wed by law.
Hiền abandoned her studies after finding out she was pregnant while her husband did not have a stable job, pushing the couple into a difficult life, depending on their parents.
Not far from Hien's house, Pham Thi Thao, born in 1994, got married in 2010, two years earlier than the minimum age for girls by law.
Married life was a struggle as they kept having arguments due to financial woes.
When her son was 15 months old, in 2013, Thao left her hometown to seek a job.
Her husband, Le Van Huan, was working in the northern province of Bac Ninh as a construction worker.
Since then, they have lived separately and rarely visit home.
Their son is being looked after by Huan's mother who works in the field every day.
In Ngoc Khe Commune, Ngoc Lac District, where Hien and Thao live, at least 16 young people got married last year at an early age, often 15 or 16 years old.
During 2016-18, Ngoc Lac District had 235 victims of premature marriage, mostly in Kien Tho, Thach Lap, Thuy Son and Ngoc Khe districts.
Abandoning school at early ages to get married, many of them struggle to make ends meet.
Not only premature marriage, inter-family marriage is also common in disadvantaged areas of Thanh Hoa where people lack reproductive knowledge and law awareness.
Children of inter-family married couples might suffer from sluggish growth, deformed body parts or chronic diseases.
Thanh Hoa Province has 11 mountainous districts with nearly 621,440 ethnic minority people.
During 2011-15, the province recorded about 1,200 premature married couples and 86 inter-family married couples.
On average about 200 to 300 couples got married at an early age and 20 couples had inter-family marriage.
Poverty and isolated living conditions are among the reasons for premature and inter-family marriages.
Few ethnic minority residents know that marriage is illegal between people of the same bloodline and between relatives within three generations under the Marriage and Family Law.
Pham Trung Dung, chairman of Ngoc Khe Commune's People's Committee, said local authorities have run classes for local residents to raise their awareness about health, population and expand knowledge about family and marriage.
Communal officers visit remote areas to disseminate information and encourage locals to follow the laws on gender equality, marriage and family.
Thanks to these efforts, the number of premature and inter-family marriages in mountainous areas has declined, according to Cam Ba Tuong, deputy head of Thanh Hoa Province's Board of Ethnic Groups.
But the marriages are still common in the most disadvantaged and remote regions.
Tuong said penalties would be imposed on offenders, while heads of villages and elderly people should be encouraged to make changes in the community.
VNS