Residents in Le Thuy District, central Quang Binh Province, have become concerned about environment pollution caused by titanium exploitation.
Vietnam struggles with environmental crimes
Titanium mining in Binh Thuan affecting environment, people's lives
Mineral exploitation pollutes towns, harms people's health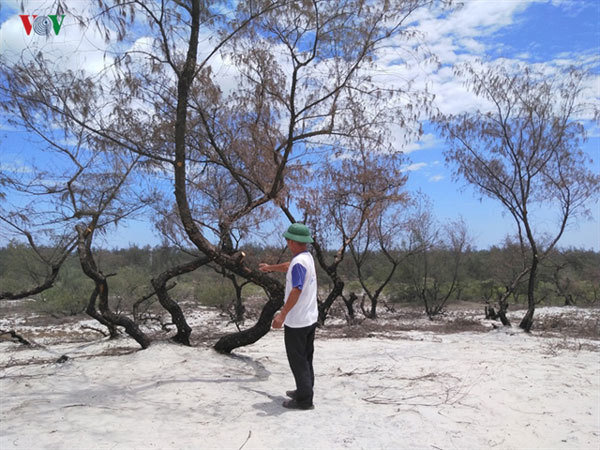 Enterprises in Quang Binh have felled hectares of protective forest to exploit titanium in Le Thuy District. — Photo vov.vn
Nguyen Huu Khuynh, a resident from Ngu Thuy Chung Commune, said extraction activities of the metal was causing noise all day and night and hectares of protection forests around the mining area had been cut down and burned.
"Local residents plant trees to protect the environment. We have repeatedly objected to the mining and burning forests but they ignore us," he told Voice of Viet Nam (VOV).
Ngo Thi Phuoc, a local resident, said they went to the mine many times, blocked the road into the mine and cut power to protest the mining.
Chairman of Ngu Thuy Chung Commune People's Committee, Nguyen Quang Thao, said titanium mining has polluted the groundwater sources in the area, forcing local households to buy water from elsewhere to use for daily purposes.
According to Thao, the mining is too close to the residential area and protection forests.
Previously, people objected to the assessment of the provincial Department of Natural Resources and Environment that the mining does not affect groundwater.
Phan Xuan Hao, director of sub-department of Environmental Protection, said they will send an inspection team to inspect the titanium extraction in the locality to assess impacts and devise solutions to minimise adverse impacts to the environment.
VNS