Remains of 20 war martyrs were collected from two sites in the central province of Quang Tri within a month prior to April 22.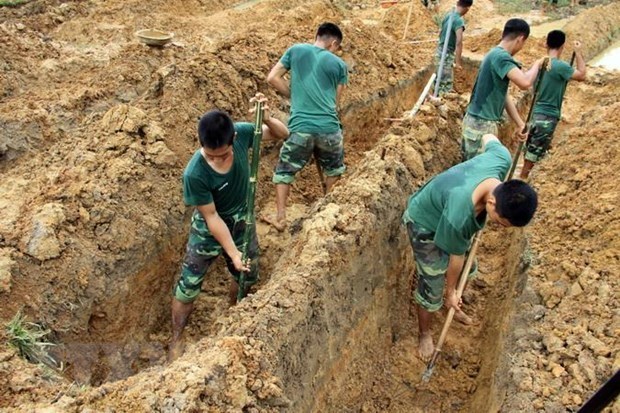 Members of the Military Division 968's search team at work
Military Division 968's search team unearthed remains of nine in Hoan Cat village, Cam Lo district. They were found at the depth of 50 – 60 cm and about 2 – 3 metres away from each other. A number of the martyrs' personal belongings were also unearthed, including a pen with the name of Tran Huu Quynh inscribed on it, buttons, mirrors, and lighters. Currently, the team is expanding their work around the site.
The other remains were collected by another search team from the Economy-Defence Unit 337. They were found in two layers, along with some objects like buttons and shoes at the depth of just about 30 cm inside gardens of two households in Tan Hao village, Huong Hoa district. All of the remains were transferred to the martyrs' cemetery of the district for funeral services and burial ceremony scheduled for April 24.
Quang Tri was one of the most devastated localities during Vietnam's resistant war against the US as it was the frontier of the sides, pounded with thousands of tonnes of bombs and shells. The province was also well known for the fierce 81-day-and-night battle at the Quang Tri ancient citadel. It is now home to over 70 war martyrs' cemeteries, with nearly 70,000 graves.-VNA