The health ministry on Wednesday issued updated guidelines on the mandatory quarantine period and details of a pilot home quarantine scheme for people who came into direct contact with confirmed COVID-19 cases.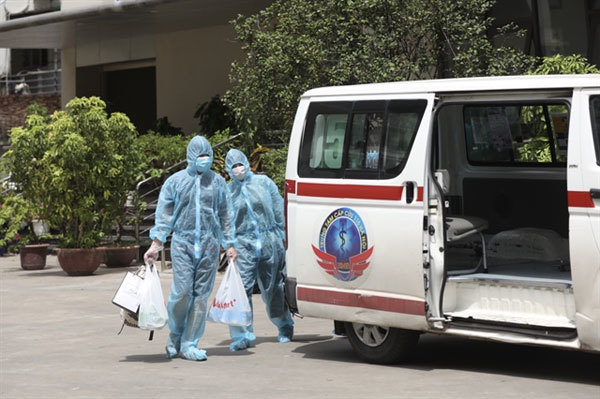 Two close contacts in Hanoi of a confirmed COVID-19 case returning from HCM City are about to go to centralised quarantine facility on July 9, 2021. 
According to the guidelines, which local governments are supposed to observe, the time of medical quarantine is decreased from 21 days to 14 days for direct contacts (F1 cases) of confirmed COVID-19 patients (F0) and foreign arrivals, except for arrivals for business purposes with duration of stay shorter than 14 days, and other cases of entries in accordance with other regulations of the Immigration Department and the National Committee for COVID-19 Prevention and Control.
However, they would need to continue to monitor their health status for the next 14 days.
Local authorities are ordered to manage and supervise the isolation period and follow-up medical observation period to ensure no cross-infection or virus spread in the community. 
Home quarantine
The health ministry also told local governments to consider conducting trials of home quarantine of F1 cases, hold training and provide instructions via video clips or other materials, strictly and frequently manage the isolation processes to ensure disease prevention and control.
According to the interim guidance, the accommodation for quarantining F1 cases needs to be a house or an apartment in a residential building, a red placard must be displayed with yellow letters "COVID-19 medical quarantine site" and a waste bin with hazardous material warning.
The house/apartment needs a separate room that is fully functional (with its own toilet, wastebin, air condition unit, washing machine, etc.) and distinct from the common living space of the rest of family (if any), and a camera is needed to monitor the quarantined subject.
Toiletries, personal protective gear must be worn by other family members who come into contact with the quarantine person(s).
They must also have access to cleaning equipment, and a table outside the quarantine room to leave meals, drinks and other necessary items for the quarantined person(s) to take.
The F1 cases under home quarantine must not have direct contacts with other family members or pets, install the contact tracing app Bluezone during the entire period, monitor their own health status including body temperatures to report on Bluezone or to local health authorities via telephone.
The F1 cases would be tested three times, on the first, seventh, and fourteenth day of the quarantine.
The other residents of the house/apartment would also be tested (using pooled samples testing) in the same timeframe.
A review of the pilot period is required to consider the implementation of the model on a larger scale, the health ministry noted. 
Asymptomatic case treatment
Amid explosion of COVID-19 cases in HCM City and other southern localities (especially Binh Duong and Dong Nai provinces) that threaten to overwhelm healthcare capacity in recent days, the health ministry has also issued guidelines on shortening hospitalisation time of COVID-19 cases with no symptoms to partly relieve the increasing pressure on medical staff and facilities.
The COVID-19 patients in treatment at hospitals/medical centres with no symptoms could be discharged tens day after admission when two consecutive COVID-19 tests (RT-PCR diagnosis, 24 hours or more away from each other) return negative or show low viral load (cycle threshold – CT ≥ 30).
They would need to self-isolate and monitor their health status at home for another 14 days.
Regarding cases detected in the community (positive RT-PCR test results) without clinical symptoms, if there is a low viral load (CT ≥ 30), they should be moved into health centre for further observation, and if in another 24 hours, the tests continue to show low viral load (CT ≥ 30) or return negative for coronavirus, the patient is discharged and medical supervision is carried out as above.
For COVID-19 patients who have been discharged from the hospital after three negative tests in line with health ministry's guidance, if they test positive to the virus during the 14-day home isolation period, they wouldn't need to be hospitalised again and local authorities wouldn't need to carry out quarantine or other measures to suppress a potential outbreak.
Vietnam has recorded a handful of these post-discharge re-positive cases, but there has been no known reports of subsequent infection in other people who have come into contact with these cases as health authorities noted that the virus fragments that trigger the positive results are no longer "live".
These patients however would need medical attention if they show clinical symptoms associated with COVID-19.
The new revisions are noted to have been based on "on the ground experience, the recommendations of the World Health Organisation, the US Centers for Disease Control and Prevention in Vietnam".
Source: Vietnam News

To prevent overloading at centralized quarantine facilities, the Ministry of Health has allowed people categorized as F1 cases (having close contact with Covid-19 patients) to be under home quarantine.
Vietnamese Ministry of Health has decided to implement the pilot of the vaccine passport program in the Northern Province of Quang Ninh.