The rate of women parliamentarians in Vietnam has reached 27.1 percent, higher than regional and global averages, which is an achievement in the realisation of the Beijing Declaration and Platform for Action (BDPA).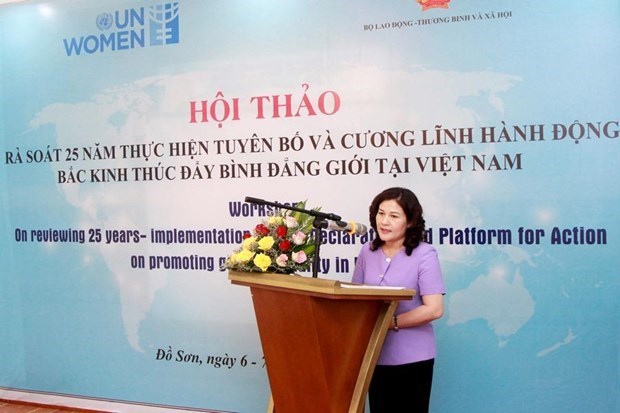 Deputy Minister of Labour, Invalids and Social Affairs Nguyen Thi Ha speaks at the workshop in Hai Phong city on May 6 (Photo: VNA)
This outcome was highlighted at a workshop held in northern Hai Phong city on May 6 to review the 25-year implementation of the BDPA – one of the world's most comprehensive documents on gender equality and women empowerment.
The world will mark 25 years of the BDPA and five years of the Sustainable Development Goals in 2020, which will also be the final year of Vietnam's first national strategy for gender equality. Vietnam will prepare for a new strategy on the issue for the 2021-2030 period.
According to UN Women, Vietnam has stepped up gender mainstreaming in law making and enforcement, launched concrete programmes and plans on gender equality, and moved to prevent and fight gender-based violence. It has also increased activities to communicate gender equality to people and empower women in society.
These efforts have helped improve women's role and standing. Aside from the high percentage of women parliamentarians, the rate of female business owners in Vietnam has reached 31.3 percent.
However, participants pointed out that the country still faces difficulties and challenges in gender equality promotion. Gender inequality still exists in many social aspects, violence and sexual abuse against women and girls remain complex, while many of such cases haven't been handled promptly.
Elisa Fernandez, UN Women Head of Office in Vietnam, said her organisation believes the assessment of the BDPA implementation will bring a great chance for Vietnam.
This assessment process should involve women and men of all ages and from different backgrounds to ensure that the voices and demand of all genders are heard and all forms of discrimination are eliminated, she added.-VNA